Hi everyone.
Not sure whether i want to sell yet but i fancy something a little more practical as i have to drive a fair old way to college and work everyday.
Cars got adjustable suspension, (how hard/soft you want the ride, not height), also has a webasto roof, not full length just half length, which is in good nick and doesnt leak. Full cream and blue leather interior with rear headrests. Walnut dash and matching handles etc, full blue carpets.
Running a 998cc with a full stage 1 kit, flethcer rc40 exhaust, had new subframes by previous owner about 2 years ago, also had some welding which needed doing by a friend of mine to pass mot so its all well at the moment.
Bad points are theres a slight crack in the roof where the webasto roof was drilled but no rust and its easy to weld may get it done before i sell, few little rust patches around back windows which i may end up getting done before i sell.
Heres a picture, its a 1987 Mini City, any ideas on how much its worth?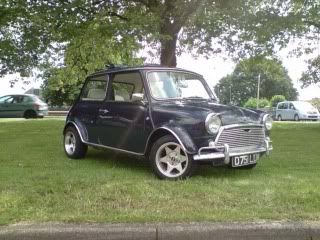 TIA connor
Edited by Conga427, 15 December 2009 - 10:52 PM.