euro street racer
Started by
andywaller
,
Jan 24 2006 08:53 PM
1154 replies to this topic
Posted 03 January 2010 - 01:14 PM
geez this ones gonna be impressive when finished

---
Posted 03 September 2010 - 08:34 PM
no affence like, but come on and put some new posts up

---
Posted 03 September 2010 - 08:36 PM
it was 2008 that the last post from the OP...do you really think hes still updating this?

---
Posted 25 October 2013 - 08:07 AM
So it's been a while since I've been able to post on here but I've sorted it so I thought I should update my project. It seems a waste to let this thread get lost so here we go.
This is how the car looks currently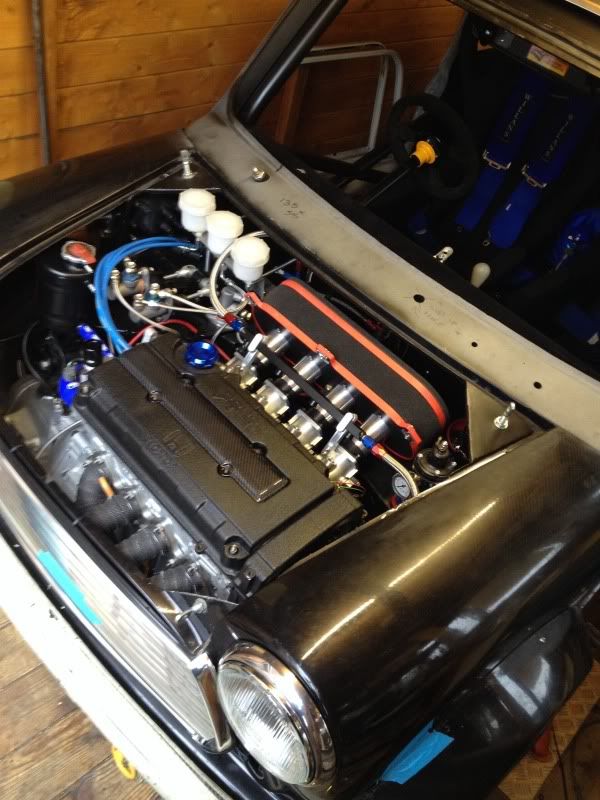 ---
Posted 25 October 2013 - 08:26 AM
Wow theres alot of time and money gone into this, im glad it hasn't died a death like a few projects on here Mate, so has anything spec wise or little details changed since your last few updates ?
EDIT: I mean excluding the pony under the bonnet ofcourse

Cheers,
Cliff
Edited by rally515, 25 October 2013 - 08:27 AM.
---
Posted 25 October 2013 - 11:09 AM
Thanks Cliff

Yeah the big chance is obvious it's now got a b18c4 in it, it's all fairly standard internals just with type r cams and vernier pulleys. It's got my own custom billet itbs and manifold and a comple custom 2.5" exhaust system I've made.

Chassis wise I'm running protech coilover a all round a custom rear beam with ally hubs and minifins. Front ends got all the allspeed subframe arms etc. I'm running kad 6 pots and 8.4" vented discs all under the MB wheels.

The boot houses custom fuel tank, swirl pot, lift pump and Bosch 044 hp fuel pump and will house the radiator which is being worked on at the moment.

The cabin has cobra evolution seats, Williams harnesses, Curley dash with race technology display, carbon foot rests, battery box, extinguisher and NOS bottle.

I will try and put some more photos up at some point.

---
Posted 25 October 2013 - 05:08 PM
good to see this still being worked, ive been off the forum for a while but always remembered this thread bigtime
---
Posted 25 October 2013 - 08:32 PM
I remember this one from a few years ago. Good to see it's still around, looking forward to more pics.
---
Posted 25 October 2013 - 08:34 PM
Did i just see the words "NOS bottle"

---
Posted 25 October 2013 - 09:24 PM
Excellent update. Keep up the good work.

Bloomers

---
Posted 29 October 2013 - 09:41 PM
brilliant to see this pop up again, been looking at this build quite a bit to see how you done things currently doing a miglia bulkhead
---
Posted 14 September 2015 - 06:58 PM
So has anyone seen it?

---
Posted 15 September 2015 - 06:50 AM
I think so mate ;)

---
Posted 05 November 2017 - 09:34 PM
What happend to this? My last post on this was over 10 years ago...

---
Posted 06 November 2017 - 12:25 AM
he still has it with much Carbon Weezel parts on it. just google "andy waller mini" and you will see.
---
---
0 user(s) are reading this topic
0 members, 0 guests, 0 anonymous users