My first mini, and infact my first car XD all thanks to a friend of mine, we talked about them for ages and how he got into minis, then later the next day he took me out in his, and then after that....i wanted one so...

A week later (13th May 2012), i bought mine own


...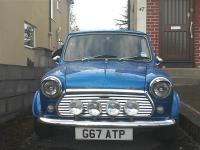 A Few Problems



It currently idles fairly fast at around 1500 revs when its gets going, i dont really know why this is, i will upload a picture of the engine and most of under the bonnet at a later date, but i was adviced to top it up with oil (not engine oil but the multi prupose oil) and that has seemed to lower it a little but still faster than it should be (would like it to be at around 800 or so).

The front lights are now not working, aftering finding out, whilest driving in the dark :-( which was a little scary, i dont know y there arent working, but if i take off the white caps for the from lights, the indicators stop working as well, which is strange.

The horn doesnt work either, it did when i bought it, and now it doesnt, i think it may be related to the lights not working either

but there are loads of wires going to loads of places that i dont really understant, which doesnt help the fact.

If anyone has any ideas about the above problems, please post as your help would be much obliged XD XD.



Current Status
It is now getting fixed, as i have to get a new near side CV joint, means i am going to be with out in for a week or so



Edited by BrAd2012, 21 May 2012 - 09:33 PM.