Ok before we start, I have not intentions of selling the car, valuation is purely for agreed valuation so please no offers to buy it, thanks.
I would like a valuation of the car listed below so that I can get that valve added onto my insurance, the company I am with lets me set an agreed valuation of my choice assuming its within reasons. It is currently insured as a modified mini built to cooper s spec. I asked the MCR to do it but they where not interested in the car as it was not a proper cooper s.
The car started life as a July 1967 mk1 deluxe auto, probably one of the last few mk1's made as it also had a lot of mk2 bits on the car such as boot lid, rear side windows etc..., it was used and abused until it came to me with a manual 998. I have since undergone a full restoration building it to a cooper s 1275 spec. I have also converted this car to dry for reliability and availability of spares. This car has been built using as many original parts as possible, although a few bits are modern repro bits, like the interior. I think the car is very close to a real cooper s spec, obviously without cooper s on the log book. Passed boths it mot's since rebuild with a clean ticket.
I am yet to rolling road the engine, still building some ST H4's for it.
Spec and pictures below. Thanks Dave
SHELL
1967 MK1 HYDROLASTIC SHELL FINISHED IN TARTAN RED WITH OLD ENGLISH WHITE ROOF.
DOUBLE SKIN MK1 BOOTLID
AUSTIN GRILL AND MOSTASCHE
STAINLESS BUMPERS WITH OVER RIDERS AND CORNER BARS
OPENING REAR QUARTER WINDOWS
BLACK AND SILVER PRESSED NUMBER PLATES
CHROME SLIDING WINDOW SURROUNDS
WHEELS/TYRES
MINILIFE SILVER 4.5JX10 WORKS REPLICA'S WITH THICK OUTER RIM AND STAINLESS STEEVED BOLTS
DUNLOP R7 167/70/10 WITH CLASSIC DUNLOP RACING CR65 STYLE  TREAD PATTEN
DRIVETRAIN
1128 4 SYNCRO GEAR BOX WITH 1040 LAYGEAR COOPER S RATIO'S
COMPETETION LAYSHAFT AND 4 PIN DIFF.
3.44 FD
HARDY SPICER OUTPUTS
COOPER REMOTE EXTENTION
ENGINE
1275 COOPER S THIN FLANGE 312 BLOCK AT +60 (1330cc)
COOPER S 480 CRANK AT 0/10
COOPER S 521 RODS
NURUL PISTONS (10:1 COMP RATIO)
PIPER 270 BILLET CAM SHAFT WITH LIGHTENED FOLLOWER
LIGHTWEIGHT STEEL DUPLEX PULLEYS
SPECIAL TUNING LIGHTWEIGHT FLYWHEEL, 270 BACK PLATE, AP BLUE COVER AND AP PLATE, UPRATED CLUTCH LEVER AND PLUNGER
COOPER S FORGED ROCKERS AND COMPETION SHAFT
12G940 1805 11 STUD HEAD PORTED/MODIFIED BY ROB WALKER
BOTTOM END BALANCED BY ROB WALKER ENGINEERING
FULLY UNLEADED
ANCILLERIES
STEEL WATER PUMP PULLEY
16 BLADE METAL FAN
COVENTRY RE-CORED RADIATOR
K&N FILTERS IN STANDARD TWIN CARB AIRBOX
TWIN HS2 CARBS ON AEG347 MANIFOLD
23D LUCAS DISTRIBUTER RECURVED FOR ENGINE SPEC
HA12 LUCAS COIL AND CHAMPION SPARK PLUG CAPS
13 ROW OIL COOLER
MANIFLOW STAGE 2 LCB
MANIFLOW 1.75 STAINLESS TWIN BOX CENTRE EXIT
POLYBUSH ENGINE STEADY
SUSPENSION
MINISPARES FAST ROAD RUBBER CONES
FIA APPROVED HI-LOWS
SEAM WELDED SUBFRAMES
NEGATIVE CAMBER REAR BRACKETS
NEGATIVE 1.5 CAMBER FRON ARMS
COMPETETION FRONT BUMP STOPS
KYB "GAS-A-JUST" DAMPERS
HEAVY DUTY ADJUSTABLE TIE RODS
MINISPARES UPRATED TIE ROD BUSHES
MINISPARES YELLOW FAST ROAD LOWER ARM BUSHES
BRAKES
INNOCENTI MK1 COOPER S BRAKE SERVO
COOPER S 7.5 DISC SETUP
EBC RED STUFF PADS
COOPER S SPACERED REAR DRUMS
AEROQUIP BRAKE LINES
STEEL HARD BRAKE LINES
TALL MASTER CYLINDER
AUTOMEC SILICONE BRAKE FLUID
INTERIOR
STANDARD MK1 COOPER S NEWTON INTERIOR RED / GOLD BROCADE
NEWTON MOULDED RED CARPET SET
MK1 HEAL MATT
LUCAS 608 DIPPING MIRROR
BROOKSPEED REPLICA DASH FOR SMITHS TACHO
PERIOD NOS KANGOL FRONT STATIC SEATBELTS
MK1 120MPH SPEEDO
SPINGALL "WORKS" STEERING WHEEL
MISCELLANIUS
AUTOSPARKS LOOM WITH BLUE AND YELLOW TRACE
NEWTON BOOTBOARD
GREEN WASHER JET HOSE
CLEAR GLASS LUCAS INDICATORS
GENUINE BMC TWIN TANKS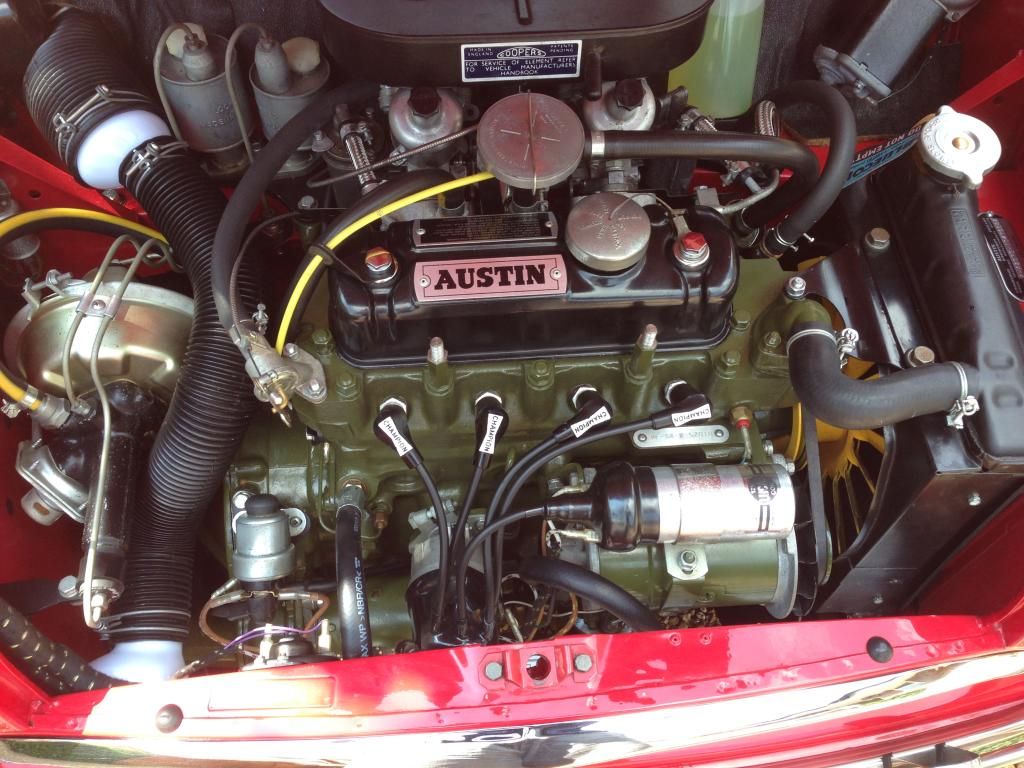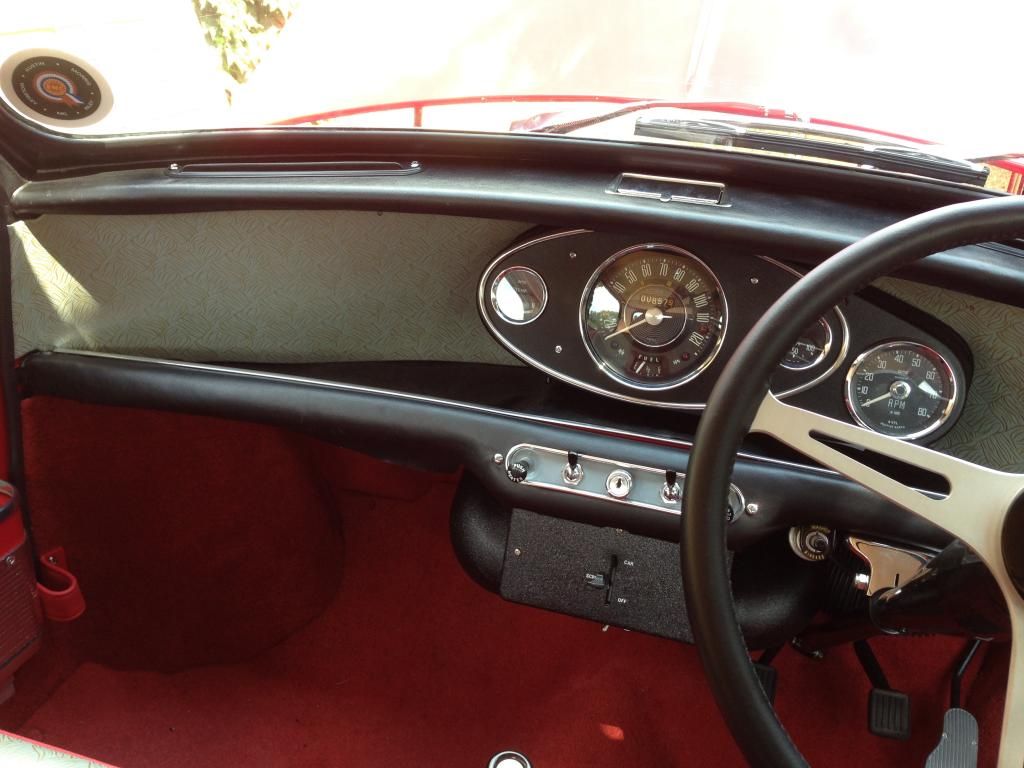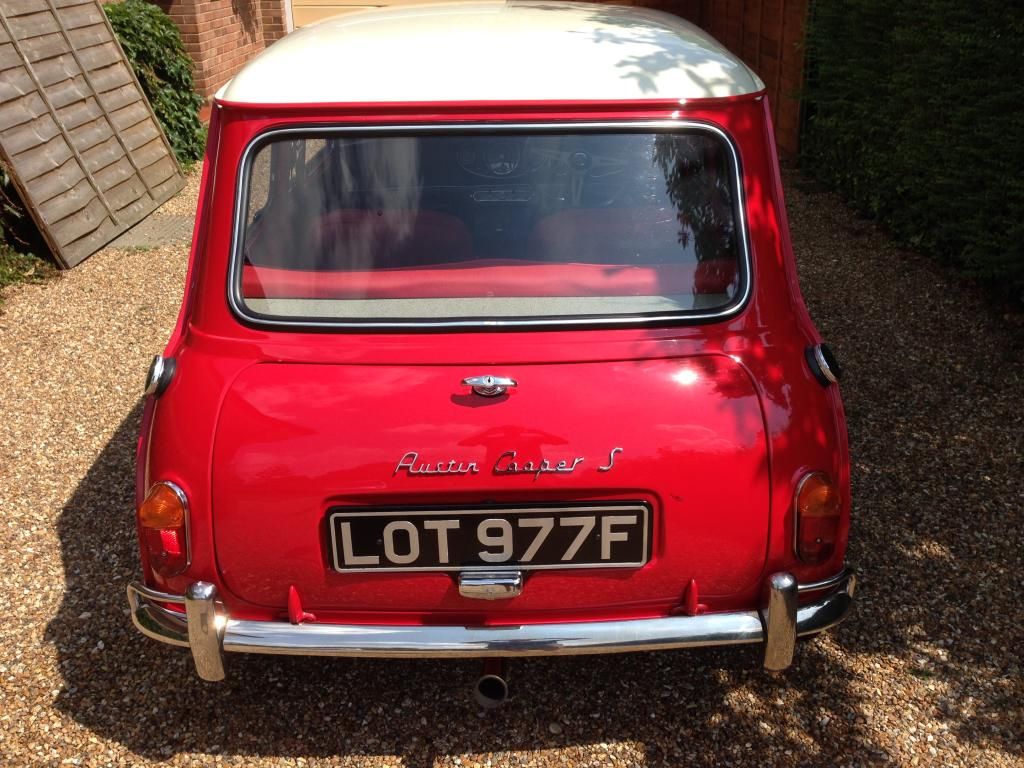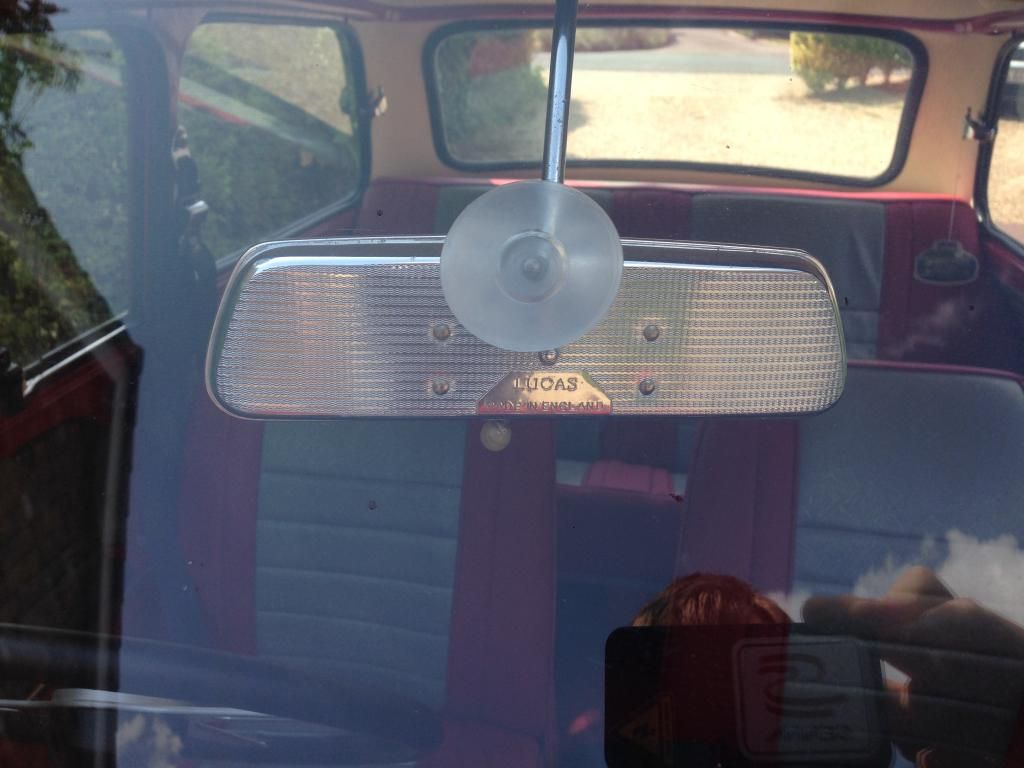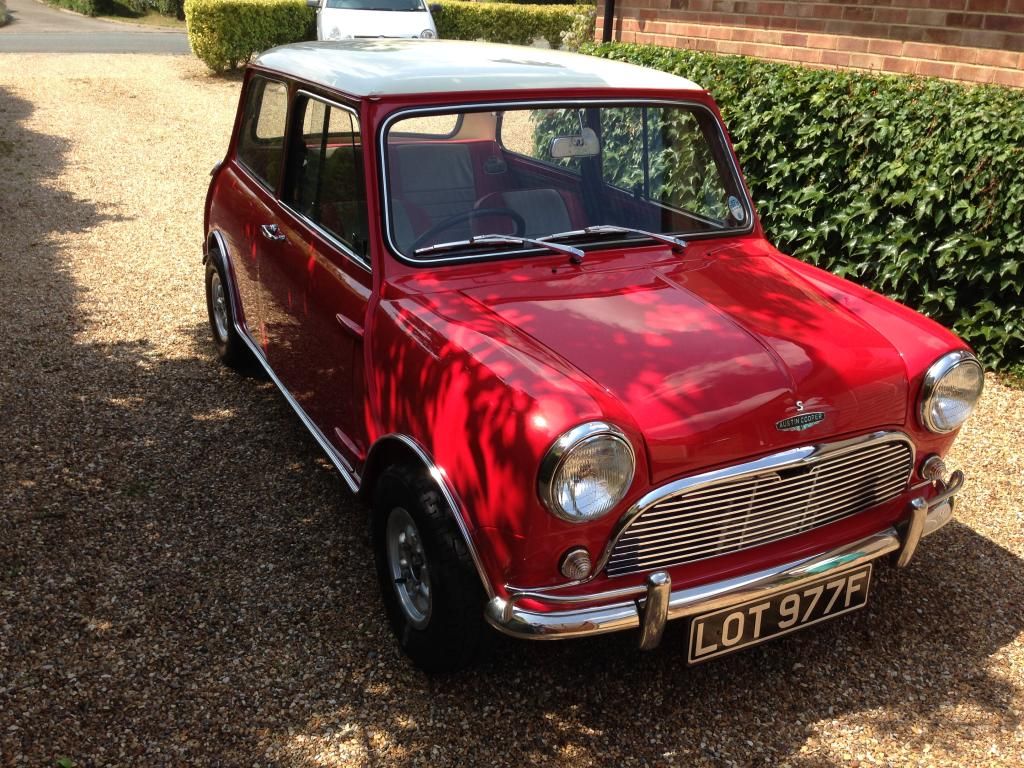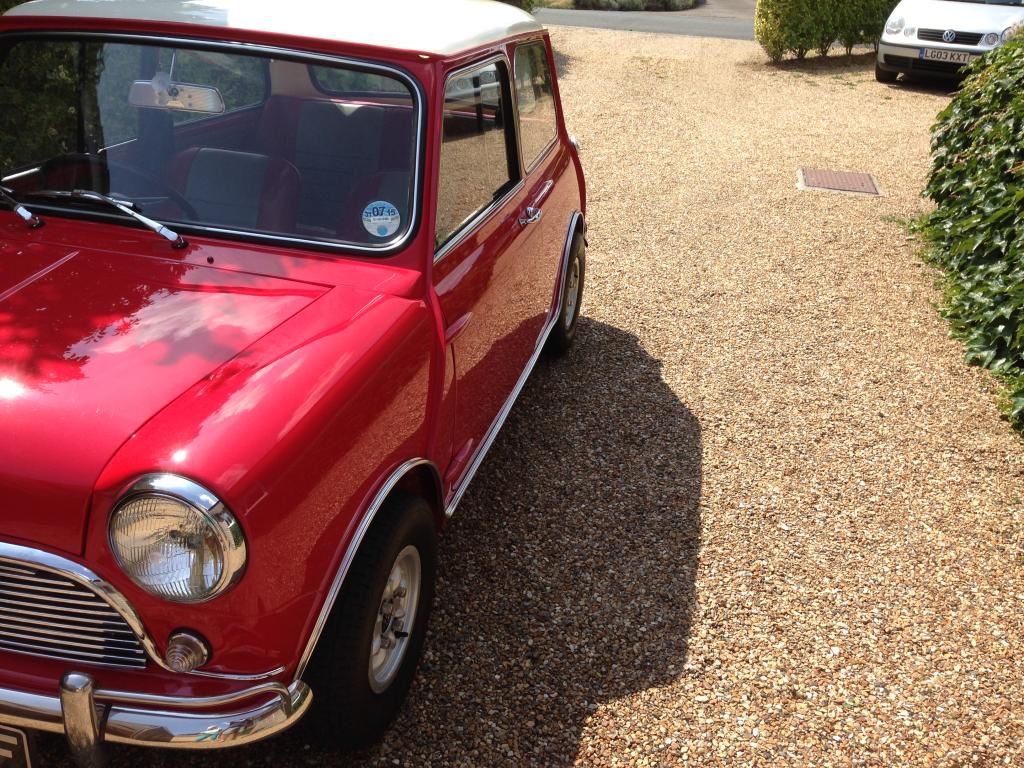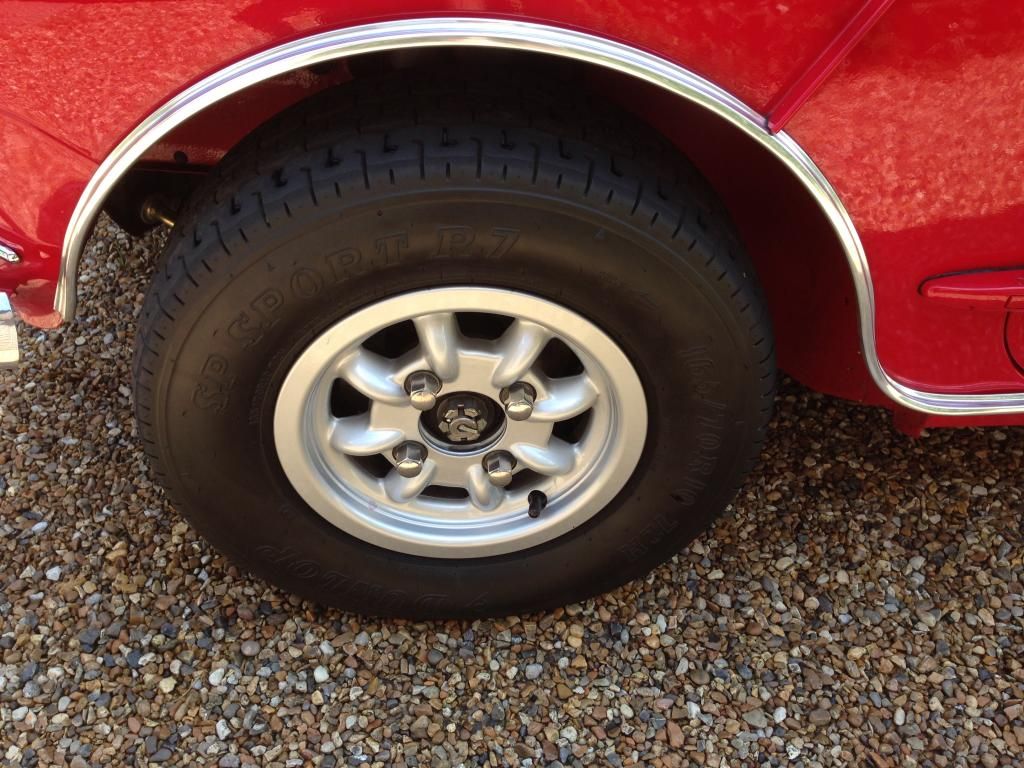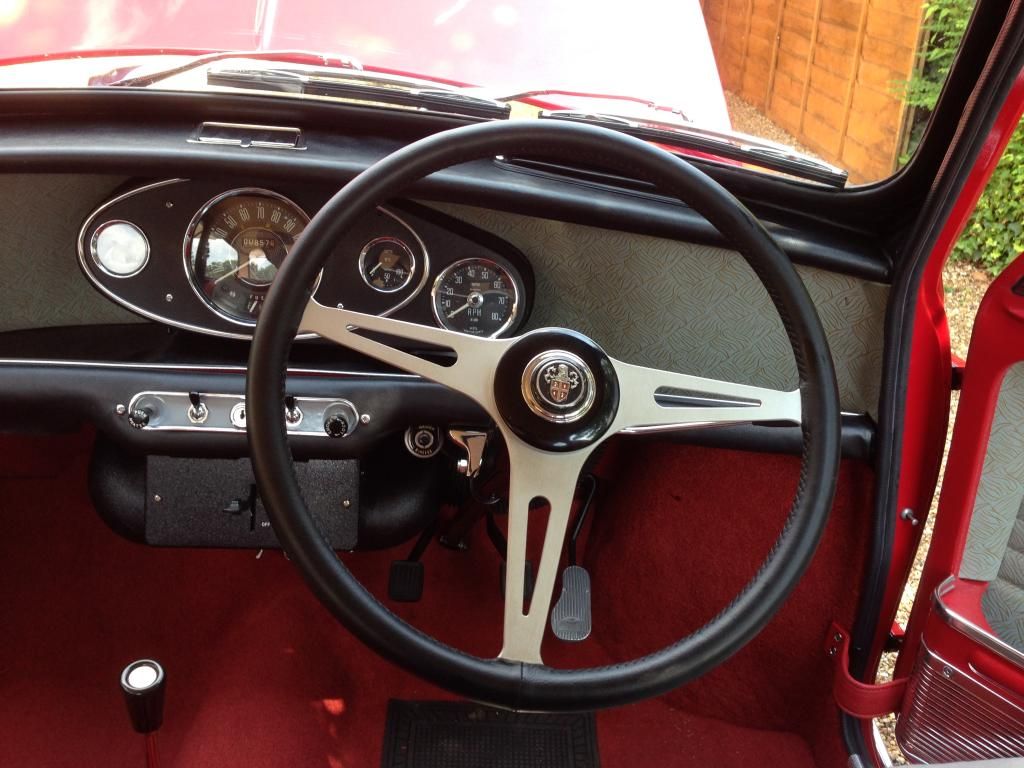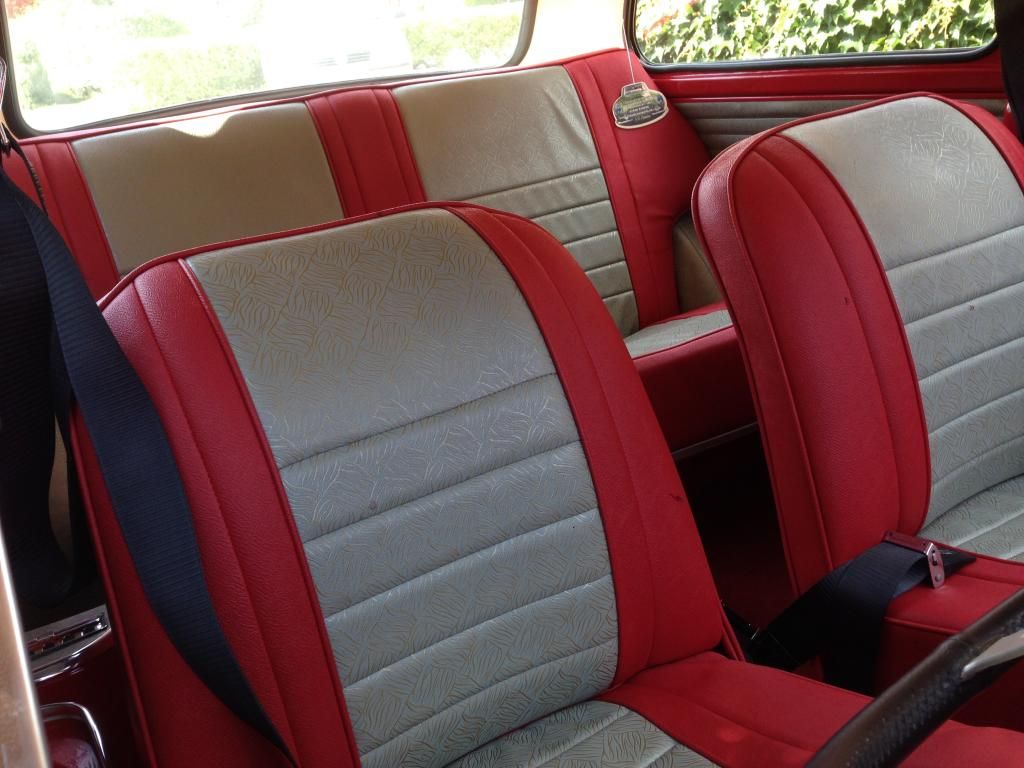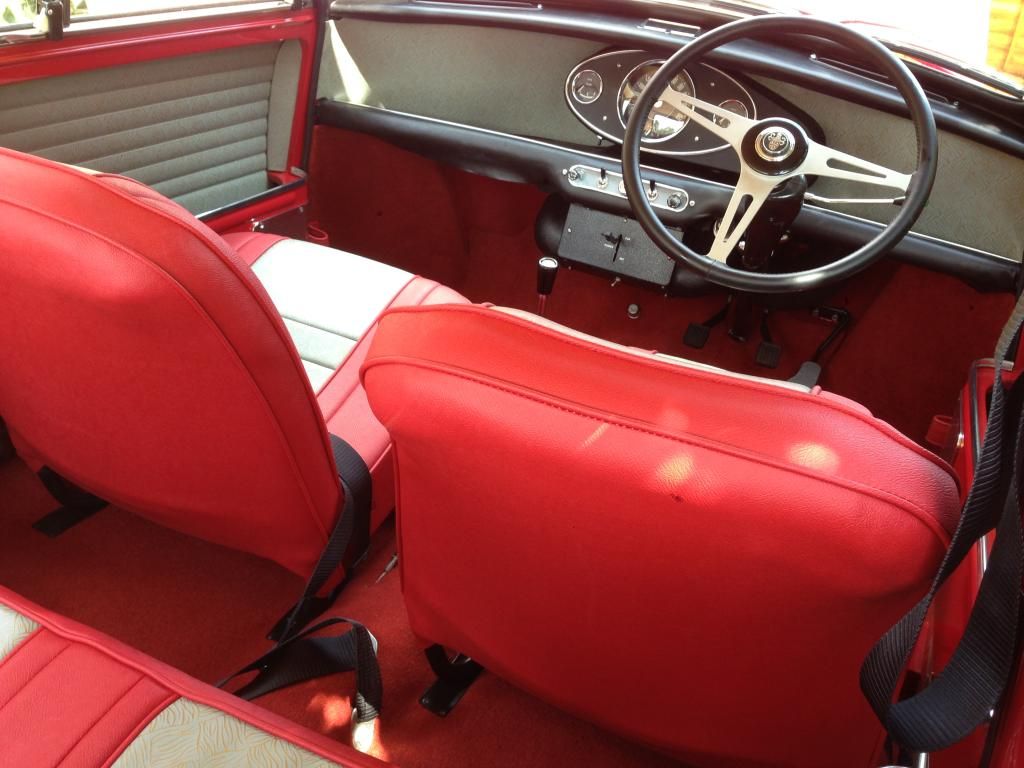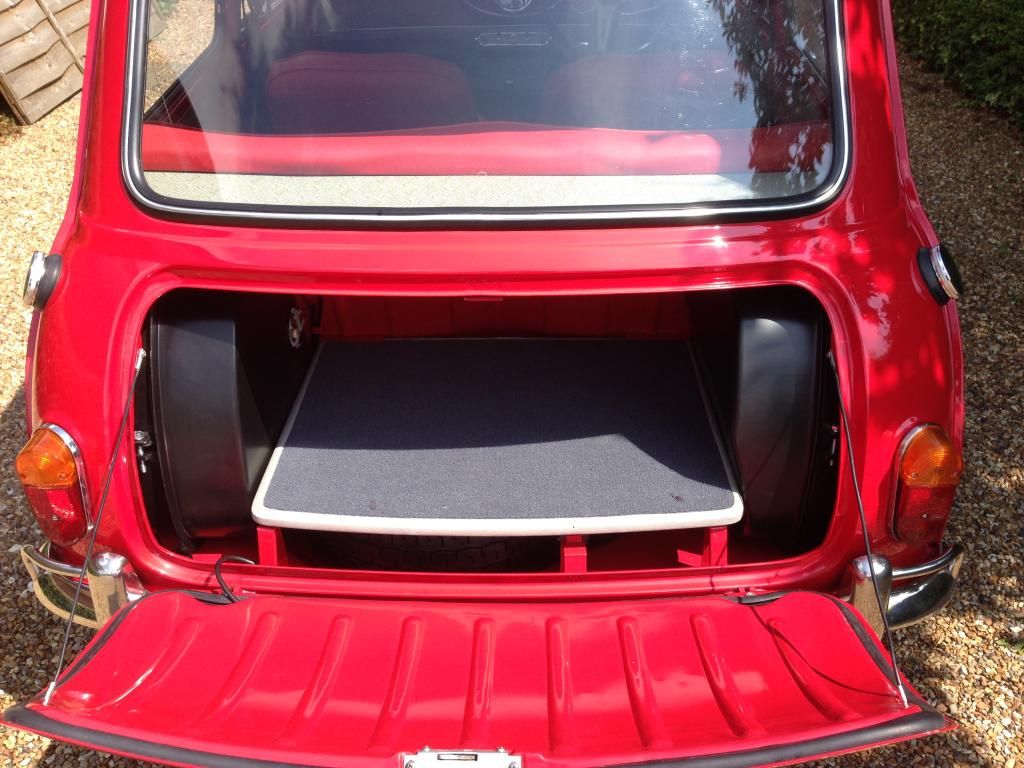 Edited by dgear1984, 01 August 2014 - 06:42 PM.