Hello TMF. 
I haven't posted a build thread on here for ages, so thought maybe i would give it a go. 
I bought a mini project off of my good friend, i don't know what it is with them, but i just keep wanting one, then when i have one i want to sell it, and as soon as i have sold it i want another one, vicious circle, anyway here is my latest thing. 
Like I say, i bought this from a good friend, he asked me to have a look at it with him earlier in the year and give him the yay or nay on buying it, well it looked top to me so i said "buy it, or i will!" so he bought it. Fast forward about 2 months and he offered it to me at what he paid for it, so i bought it from him. 
Minis have changed a lot over the years, as i am sure you have noticed. I remember when i bought my first couple in the early 2000's and they were just a tonne of fun, a right laugh. Since then they've become a bit of a collectors car, demanding good money and people spending a lot of money on restorations and making them look amazing. I love this, i love looking at them but i do not enjoy the stress, agro and worry that comes with concourse cars, i also don't like the price tag! 
I have a "67 cooper, and ive dabbled with other things inbetween, bought parts with the intention of installing them, and then sold them later down the line after never using them to fund other things. 
With this car i am going to build it up as cheap as i possibly can, parts will be begged, borrowed, repaired, traded or dug out of my storage and be put to good use, anything to keep the costs down. All of the welding, painting, instilation will all be done in house by myself. the outcome is hopefully going to be something that i can just have some fun in, beat around in, take to some events and just have a laugh with. 
It's a 1980, or something, nothing special, i didn't pay much attention to it at the time and i don't really care all that much now! 
Anyway i will show you some photos hey? 
I bought it as a shell, it seems to have come with everything to build a complete car, but i have other plans. 
Around all the junk inside you get a rough idea of what is there.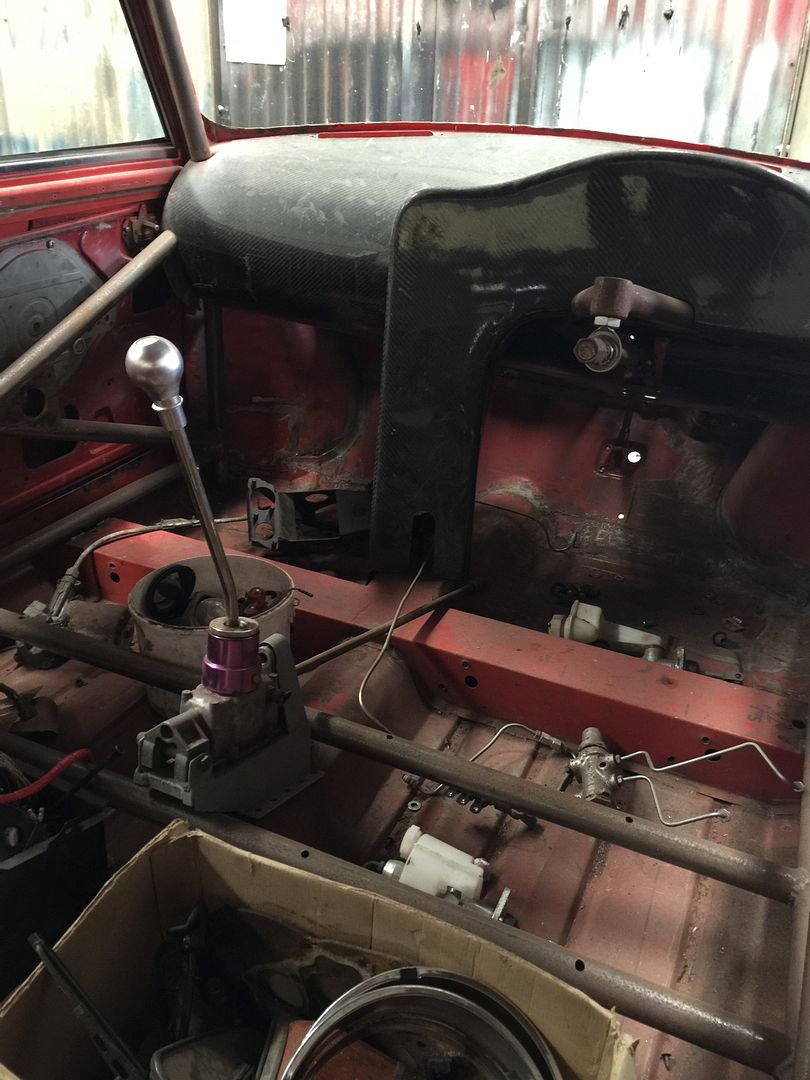 The chap who had done all of the work you see planned to put a B16 or B18 in it. Having owned a lot of honda engines they just don't float my boat for a few reasons, not saying they aren't an amazing engine, they sure are and there are some mega Honda builds floating around, but i cannot justify the costs that B16 engines demand, unfortunately. 
The mini seems to have had its fate already decided, i would have loved to build a sleeper but the huge cage, lairy dash and tubed arches seems to have detracted from that plan. 
Plans are. 
Modern engine with a 5 speed box, ideally 100hp+ 
10" wheels 
Buckets and straps 
Basic colour that can be painted by a muppet on a driveway.