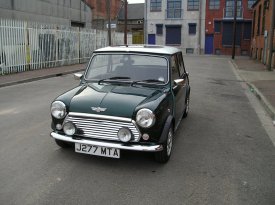 sills
Started by
Jules
,
Feb 18 2004 12:03 PM
Posted 05 March 2004 - 12:55 AM
shouldnt go to cow boys
no affence cowboy

---
Posted 06 March 2004 - 07:11 PM
the rest of the welding is lovely tho

---
Posted 07 March 2004 - 08:28 AM
no offence taken minibug
welding sills is tricky for the most part, i had to angle grind mine down after i had welded them, i used extra weld as i didn't have a spot weld attachment for my welder, i do now

hope you have them on by the end of the month :grin:
---
Posted 07 March 2004 - 01:12 PM
This is the corect tool for spot welding , but if you dont have one of these you can use a mig welder to "plug weld" this is you drill a 6mm/8mm hole in the sill and "plug" the hole (welding the top layer to the lower layer ) for this you do not need any special attatchment .
Some mig/mag welders do have a setting for spot welding , they burn the top layer and weld it to the lower layer , you can get fair results on new steel but on a used car the results are not so good and you can end up with more holes burned than welded !
---
Posted 19 March 2004 - 10:21 AM
well in the end i decided not to put the sills strips on anyway, because they hold water which eventually causes rust, so after all that resoration I would rather not have the little plastic strips on and no rust, then little black strips with rust developing!!

---
Posted 20 March 2004 - 08:44 PM
Actually surprisingly enough on my car, the plastic thing actually kept water out. It was glued to the sill with some clear sticky glue stuff, and that just kept the water out

---
Posted 22 March 2004 - 09:57 AM
hmm does it rain everyday in cyprus?? :erm: because at least you get some sun to dry it out!!

---
---
0 user(s) are reading this topic
0 members, 0 guests, 0 anonymous users