In the last week of July 2007 I was sent to Brussels by my company for some training (Lean Six Sigma - exciting stuff!). Anyway, it was about this time that I thought, realistically, the Vtec was never going to be done for BH2N. The shell was still bare and needed a fair amount of welding. I had the Honda D series subframe, and the engine, but the loom was a mess, and there was A LOT of work left to do.
So, I thought, with the sale of my Fiat Coupe I had a bit of spare cash, I could buy another mini. The plan was to get one with MOT and tax to last me til after Germini. Howwever, frantically scanning Ebay, forum for sale pages and and other website I could think of I came across
this topic
. Its amazing what you can find when you look hard enough!

I went to see it on the Saturday before I left for Brussels on the Sunday, and midweek I decided to buy it, following a few international phone calls! The Saturday I got back saw me delivering the Coupe up to Derby, to rush back to take delivery of the Minus that evening. Sunday I was throwing out the scrap inside and generally getting to work!
~~~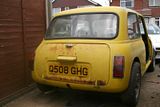 ~~~
~~~