Hello Guys & Gals of TMF,
Optimise Automotive is finally ready to release lots of new and exciting products for the Classic Mini and we are offering introductory Special Offers of 20% OFF !!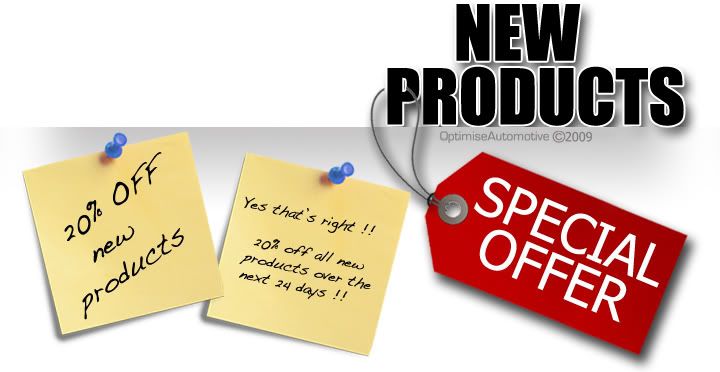 Briefly...
For those of you who don't fancy reading my mini essay below (excuse the pun) - which explains things in detail - all you need to know is that we will be releasing a new product from our Dash Trim Accessories or Trim Accessories ranges every 2 days over the next 24 days - so (if you haven't already) register on the website to receive 20% off!!

In more detail...
Every two days for the next 24 days we will be releasing one of our Dash Trim Accessories or Trim Accessories products.
We will be updating this page (or on the Dash Trim Accessories page) once every 2 days with the product that will be released (including photos, info and prices) and 24 hours later the product will be released. Then 24 hours later we will be posting on here (or on the Dash Trim Accessories page) again with info of the next product, followed by it's release a further 24 hours later.... and so on, I'm sure you get the idea.
Anyway, each product will be launched with a 20% off special offer which will be valid for 24 hours after the product ihas been released. To be eligible to these Special Offers it is required that you register with Optimise Automotive before the product is released, as you will receive a coupon code, along with instructions on how to use it, in an Optimise Automotive newsletter (which will be sent as the product is released) and is only received by registered Optimise Automotive users. So if you are interested in any of the products listed below simply register on the website to make sure you don't miss out on the chance of 20% OFF our new products!!
By now I would imagine that you would like to know the items of trim that our Trim Accessories range includes, so here you are...
Dash Trim Accessories
Centre Binnacle Dash LinersOffset Binnacle Dash LinersLower Dash Tray Padded CoversLower Dash Tray LinersDash Heater Pipe Covers
Trim Accessories
Estate Window/Back Seat Trimmings KitEstate Load Bay Flooring KitFront Door Fillets & LinersFront Door Check StrapRear Pocket/Bin LinersRear Pocket/Bin BottomsRear Wheel Arch Covers
Finally, that's all the info you are getting for now, can you handle the suspense?
Thanks
Andy @ Optimise Automotive
Tel: +44 (0) 7805454598
Web:
http://www.optimise-automotive.com
Email:
[email protected]
Skype: optimiseautomotive
Edited by roberts, 19 March 2010 - 07:50 PM.