Austin Mini 1100 Special 1979Condition:
Excellent
Price:
Finished - £2795 offers also invited
Location:
Bedford, Beds. MK42
TAX:
6 months
MOT:
12 Months
Quick overview:
Freshly resrayed and lightly restored having been sat for a few years.
Full History with every MOT and tax disc it's had
Nearly all original features of model
Original wings, sills, floors
Still a few bits and pieces to finish off
refurbished alloy wheels with two new Yokohama tyres
1100cc original engine
71,378 miles at present
see below for more detailed information:
Austin Mini Special 1100 1979
A very unique opportunity to buy this sought after special edition Mini of the late 70's.
About the Mini Special
The Mini Special was a 20 year anniversary edition but not like the special editions of the 80's/90's which were just trim colours; this was a "luxury" mini with much nicer interior trim, a superb 1100cc engine and (at the time) special wheel arches. There is a lot of information on the Mini Special but here are just some of the unique features of this model:
· Centre console with radio, cigar lighter and clock – the only production Mini with a centre console
· Under dash tray on the passenger side for extra storage
· 1098cc A-series engine
· Vinyl roof
· Wing mounted side repeaters located toward the front
· 5 x 10" Exacton alloy wheels
· "Special" wheel arches
· Clubman style bumpers (slightly squarer)
· Available in either Rose metallic with a beige trim or silver metallic with a blue trim
· Unique "Special" transfers down the sides of the car.
My Mini Special: The car's Originality
My car has almost all of the original features, including the correct steering wheel, gear knob, interior trim, colour, engine etc… The only, and I mean only, original features that this special edition is missing are the vinyl roof (but painted in a similar colour to match), and the previous owner cut the front carpet to patch up the drivers floor so that is missing. I have replaced the front section with a piece of black carpet but couldn't bring myself to throw the relatively good condition original rear away – so that is still present.
The clock was also missing when I bought the car, I bought a replacement but it is slightly too big so doesn't fit into the original centre console (which I don't want to cut, they're worth upto £300 alone!)
All the original badges are still present; the off centre grille badge, correct bonnet badge and rear boot lid badge, as well as the steering wheel emblem.
The ORIGINAL radio still works (MW/LW only, no FM included in those days!) and the speaker fitted in the centre console still works well!
The Mini still has the bumpers that are correct for this model which is very rare now as they a VERY expensive to replace. They do have some scratches so are not in perfect condition but I prefer the originality of these than a brand new round (& wrong) bumper. (I do have a normal bumper in good condition if you want me to supply this with the sale of the car.)
I have EVERY tax disc from new*, EVERY MOT since it had it's first in 1982*, FULL history (including original bill of sale) with the car, ORIGINAL handbook supplement (which tell you the timing advance, spark gaps, distributor types etc!!) and the original folder you'd have received when buying the car NEW in 1979! Please look at the pictures to see for your self! There are receipts from the Mini's whole life!
* except the few years where is wasn't on the road
Very early in this car's life the owner treated the car to some "Ziebart" rust proofing. (Receipt still present!)This was very much a sought after add-on to any car in those days and they would inject a wax-oil type rust proof all around the car body. You can see the Ziebart plugs which cover the holes where this was injected on my car. This has proven to be a good investment as bodywise this car has still got the original sills, wings and floors. There has been a patch on the driver's floor welded by the previous owner and the boot floor has had to be repaired. There's even the original Ziebart sticker in the quarter windows as well as a period Shell fuels sticker. This all adds to the originality of this car and the whole classic feeling of a 1979 Mini – hence why I've left them on.
Covering a mere 71,378miles at present with all MOTs to prove mileage, this car has very much been looked after throughout it's 32year life.
The Car at this moment
I did plan to keep the car but my financial situation is slipping beyond my control so I am being forced to sell my Mini. Very sad day I know, as I have spent a year and a half bringing it to the condition it is now. (It took so long as I don't get much time on it!!)
I have only just put 12 months MOT on it with NO advisories. It did fail first time but quickly rectified with a steering rack, brakes adjustment, tuning, wiper blade and a ball joint. Not much at all considering this was it's first MOT in 3 years! I still need to buy tax but plan to once I'm insured (even though I'm selling I would like to drive and enjoy the Mini occasionally while I can!)
Work I've done to the car since I acquired it in December 2009
This car now looks very good with a new paint job professionally done in the exact correct colour. The roof was mixed up by the paint shop guys to try and match the original colour of the vinyl roof as much as possible. Obviously, all dents and scratches have been sorted and the car gets very good comments by everyone who sees it. It is a beautiful colour that really shows its metallic in the sunshine!
Body work wise, the car has had a new drivers door (had a dent and rust so was easier to replace), new rear valence, boot floor section and boot lid. The previous owner had to have repairs in the rear corners of the gutter rail as the original vinyl roof lets water sit and rust at those points! The car has had a replacement rear subframe too.
The lacquer on the original wheels was peeled and cracked so they have had a light refurb and are now polished alloy with a grey painted centre to look original. The polished lip will need polishing regularly if used everyday to keep nice.
I have spent a lot of time and money on this Mini to get it to this condition and have kept all receipts. It's all the little bits that add up such as; flasher unit, indicator lenses, repeater lamp, wiper blade, seals, earth straps, choke cable etc. (the choke cable seized as the original engine earth strap broke leaving all the negative to go through the choke cable… Now it has all new earths so starts on the button every time and runs very nicely. (ask any mini owner who has had poor earths how badly the car runs!)
The original engine runs very nicely and pulls very well holding it's own at 50-60mph (although not quite as comfortable as a modern day car at these speeds…) I replaced the points and dizzy cap and the timing has been set.
Details
To contact me (Kieran):
Mobile 07946 139623
E-mail
[email protected]
Or PM me on the forum
Any viewing is obviously advised and I am in Bedford, Bedfordshire, MK42 area.
As I said, I would keep and cherish this car but with my current situation I am being forced to sell.
This car is very much sought after and will only increase in value as time goes by (this is already evident!) and the new owner will be very pleased.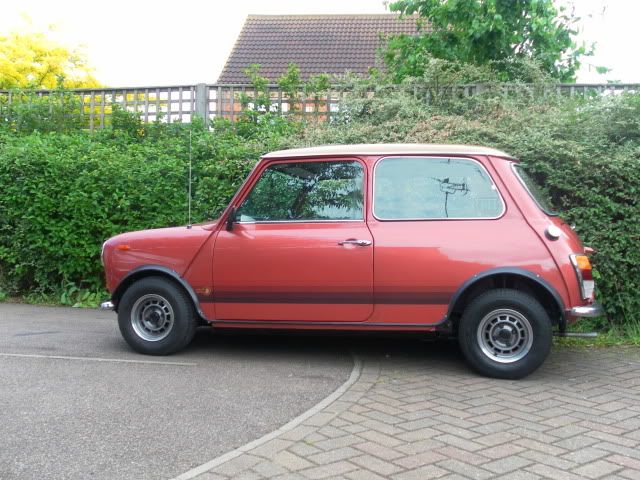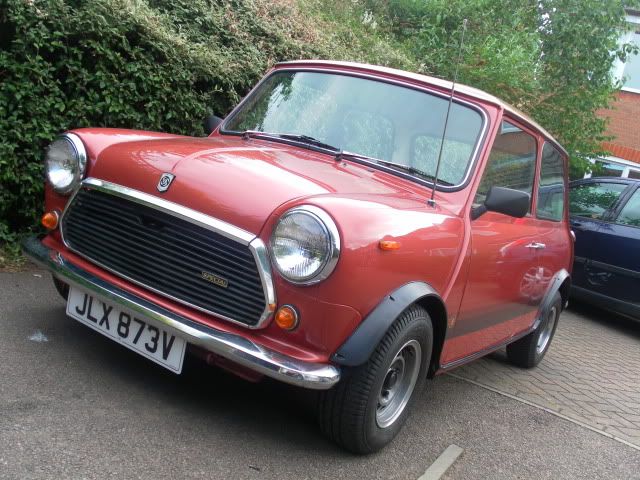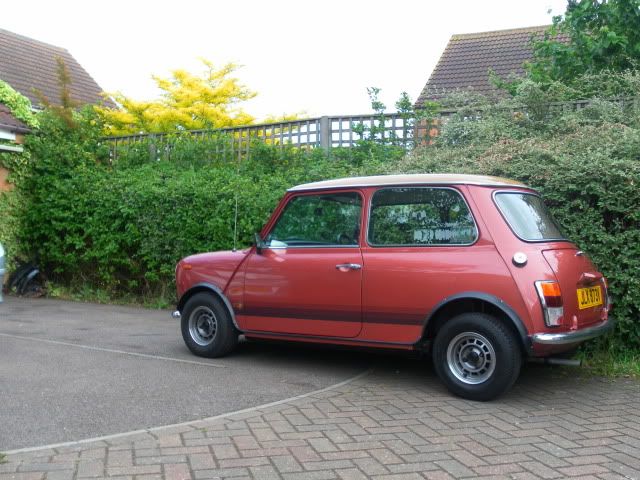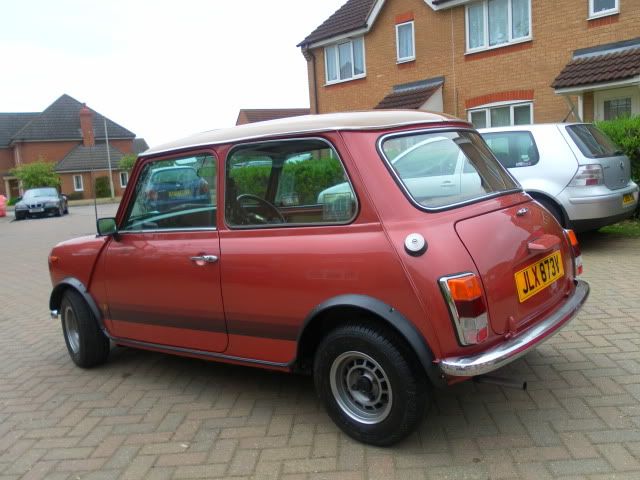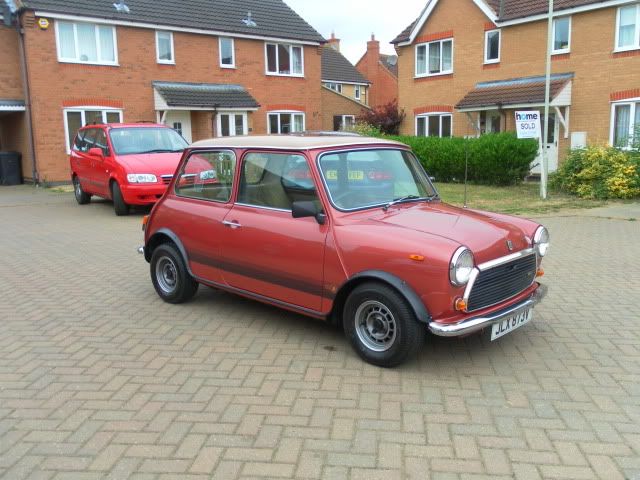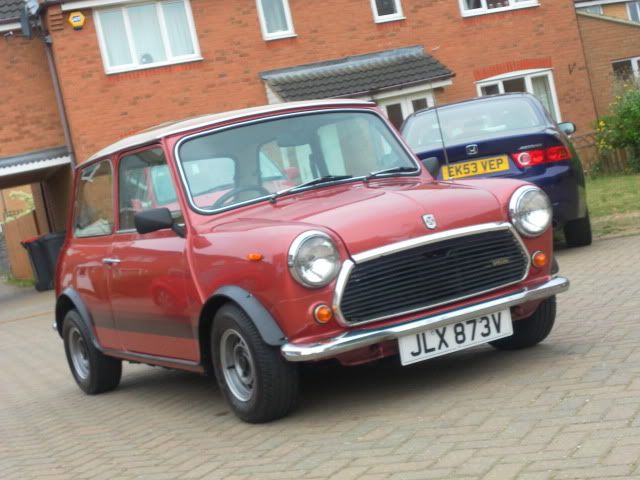 Price is £2795 or near offer. Car is taxed too so can be driven away all legally!
Edited by KJM, 16 June 2011 - 07:23 AM.