Most seem to come in around the 500 to 600kg mark.
My weight target is 500Kg, so far according to my spreadsheet of component weights etc I'm a little over that already, but there are still a lot of estimated parts in there.. plus quite a few that are missing altogether (rear suspension mostly because they are not designed yet - hence my weight split is a little to the front).
With driver and passenger (and my passenger come co-driver come mate come garage assistant is quite a big lad) I'm all in at 670Kg. Really hoping to get this down though.
A good addition to your project would be to create a spreadsheet like this to get yourself a weight estimate up front of the finished design. Its straightforward enough, list all the parts of the car, and weigh those that you can, estimate those that you can't. The total will give you an estimated car weight, which is useful for lots and lots of things while you are designing. Not least of which suspension design i.e. specifying your spring rates etc.
Also, if you take (for example) the rear axle centreline as your datum, have a column for the distance between each component of the car and the rear axle centreline, by taking moments about the rear axle, you can come up with an estimate for the position of the centre of gravity - i.e. the front rear weight split. I've also got a column for the height of each component, and this allows me to get a an idea of the height of the centre of gravity (used to calculate roll moment, and therefore predicted roll angle in cornering). This helps with specifying roll bar stiffness and the like. It also gives you an idea of where to put battery, fuel tank etc to manipulate your distribution. About the most significant mass is your driver / passnger, and small movements can make a big difference when it comes to the seats.
To do a good engineering job there should be as few mysteries as possible, and capturing this kind of information avoids the unknowns.
Here's a screendump of what I am using.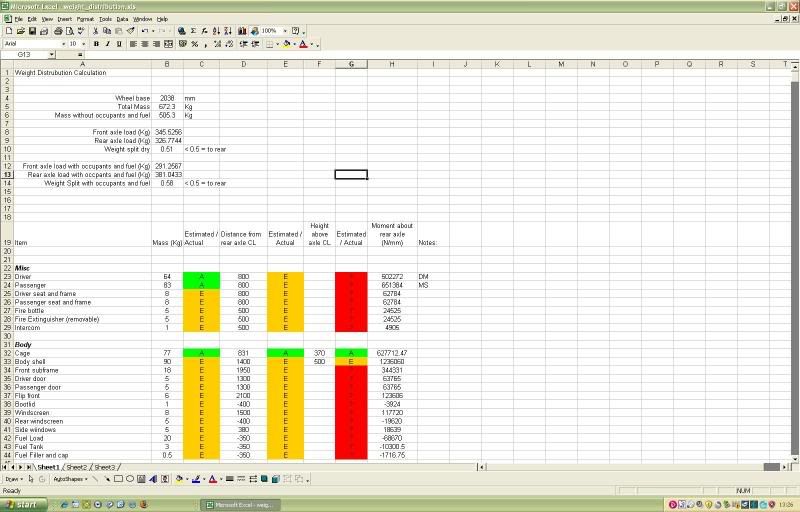 The colours of the cells are a guide to whats a fact and whats estimated. Green cells are actual weights which I know are correct, amber cells are estimates, and anything in red is missing. It helps me to see at a glance where I am and how trustworthy the information is. Still very amber though!
This screendump gives you an idea of the number of parts involved: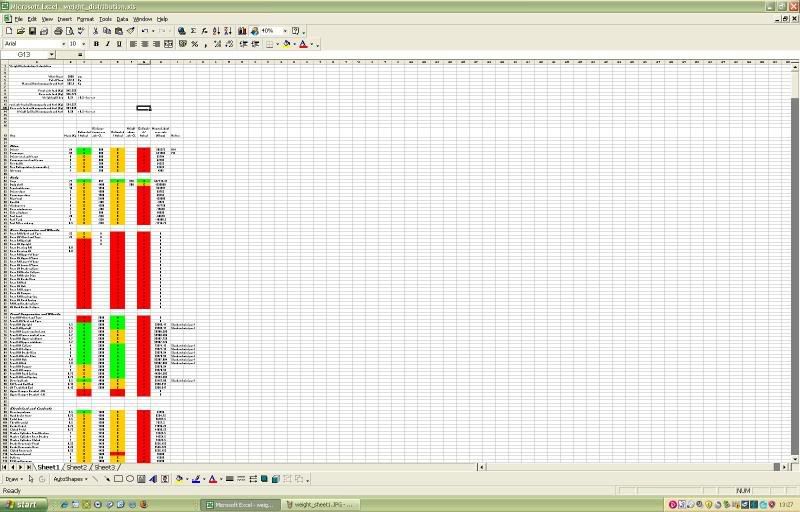 Which University are you studying at?
Dave.
Edited by SukiDawg, 30 October 2009 - 01:47 PM.