I thought I'd post up the following to help out others as this is a fairly regular topic on the forum.
It's not intended to be a complete 'how to' but may show some of the items that do need close attention and how to determine if the Hubs are Servicable.
I use Timken Bearings. They come boxed, when unwrapped, there's a couple of things I'll point out.
The Bearing assembly is tied together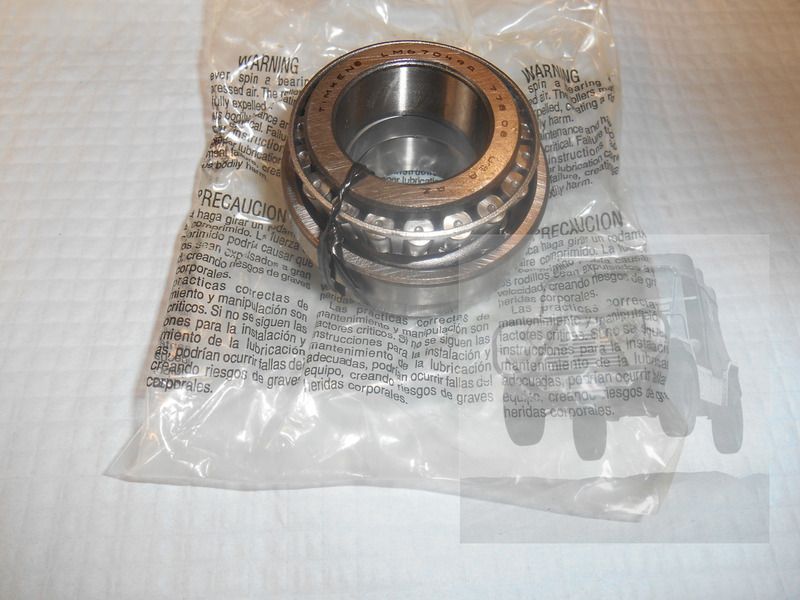 And there's this Notice which shed light on why it's tied together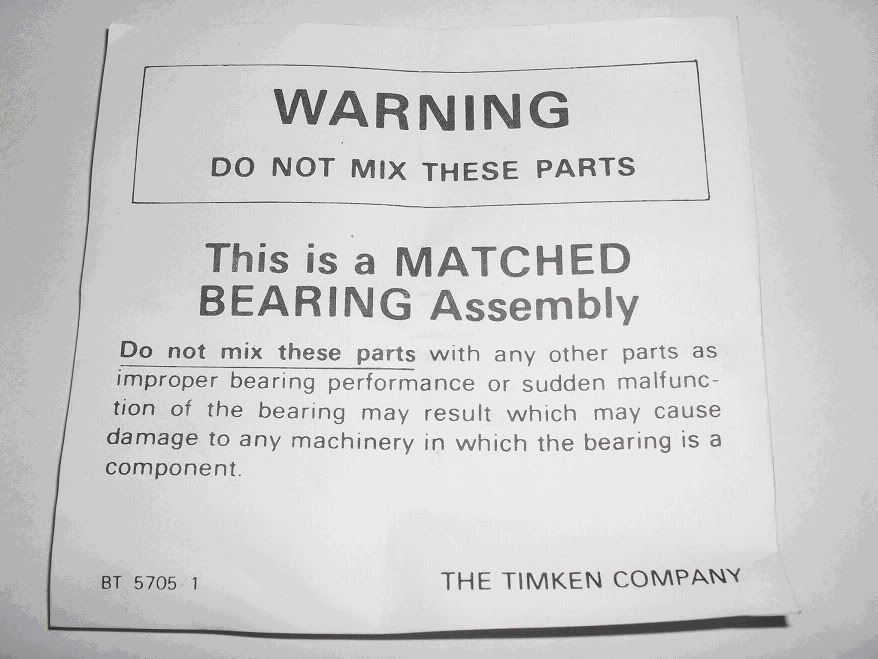 and looking at the Bearing Components, you'll find hand engraved numbers on each and they all match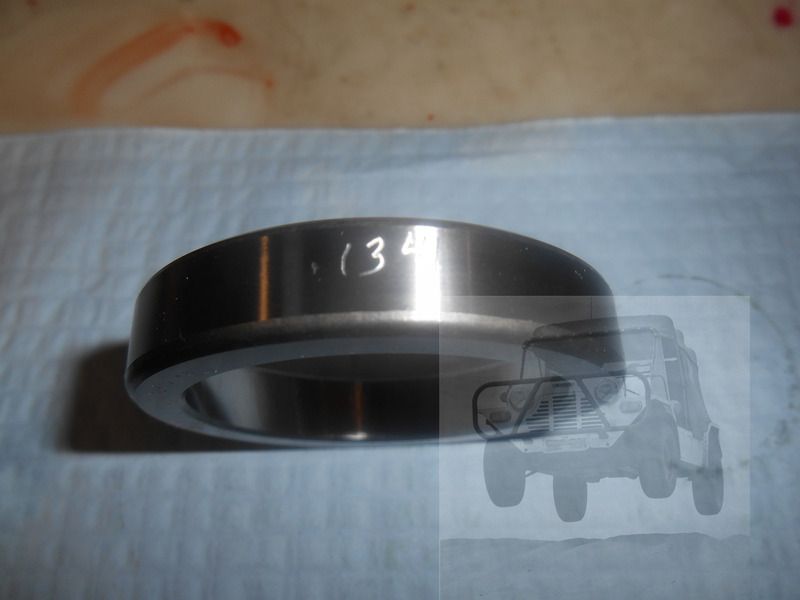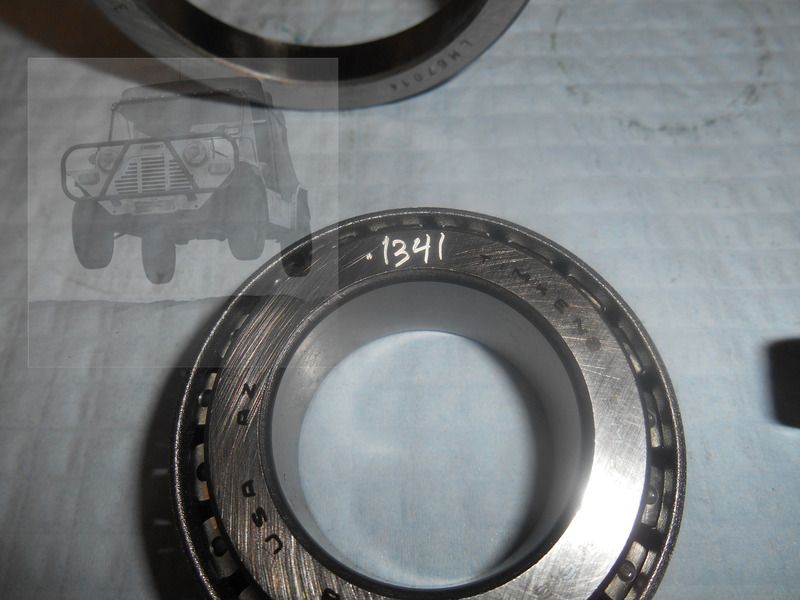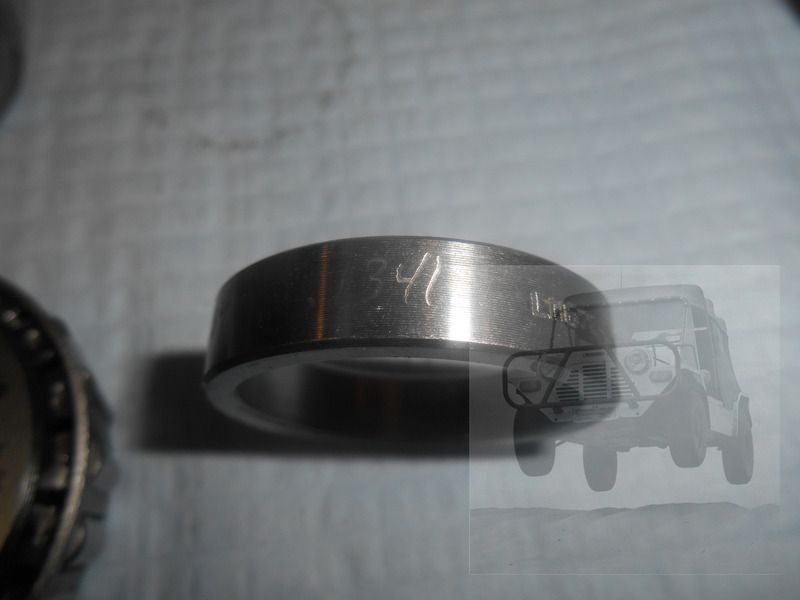 After seriously cleaning down the assembly bench and the press, I lay out some paper towel, then lay out the Bearing Assembly
Note that I have the Nut and Collar at the left hand end, this is so I know which is the Inner and which is the Outer Bearings as I'll end up fitting them and I won't get any of the parts mixed up.
So, after cleaning the Bearing Cups, I measure them and write these numbers on the Paper Towel (and later in to a log book). We'll call these measurement   't I' and 't O'  t being thickness, I being Inner and O being Outer. ('t I' isn't really necessary, however I only do it for later reference).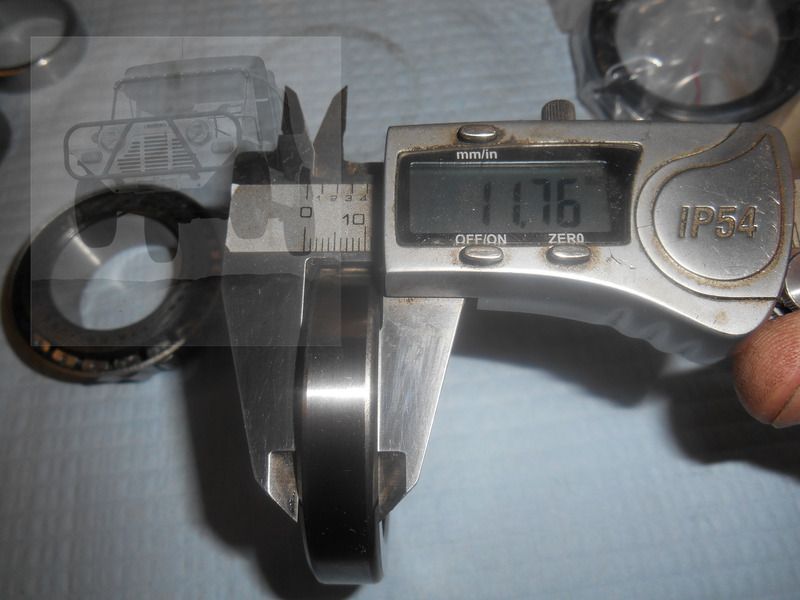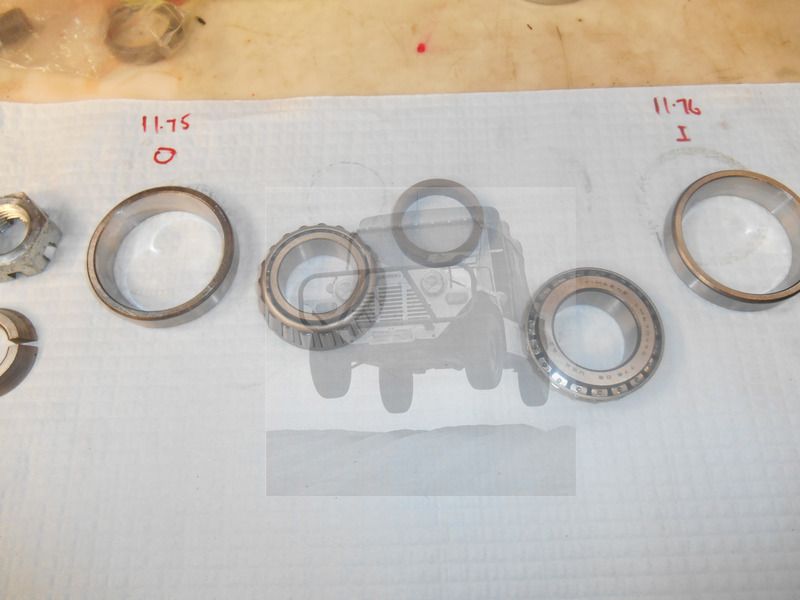 Next I'll press in the Inner Bearing Cup (I also use Bearing Retainer Loctite on these)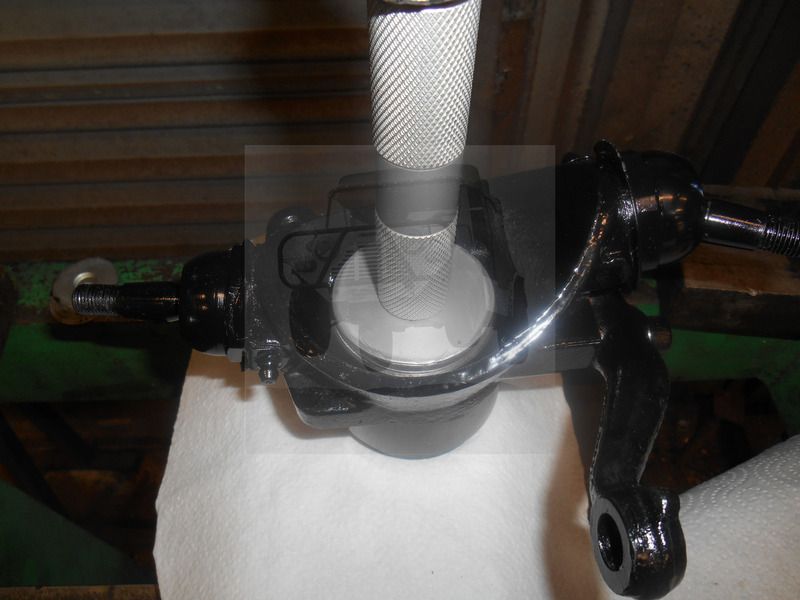 After fitting it, I'll make a measurement from the outer face of the Hub to the back of the Bearing Cup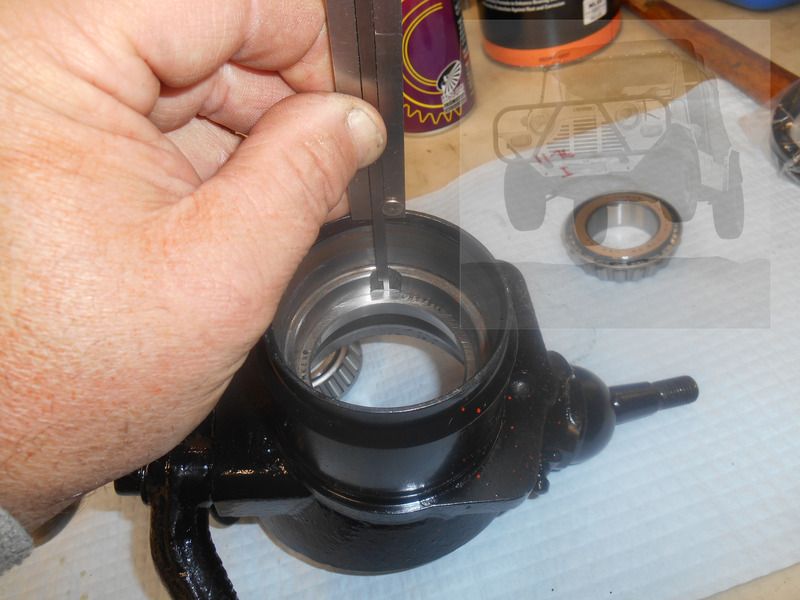 Then write that on the Paper Towel, call this 'D I'
Then I'll press in the Out Cup and take another measurement, write that down too. Call this 'D O'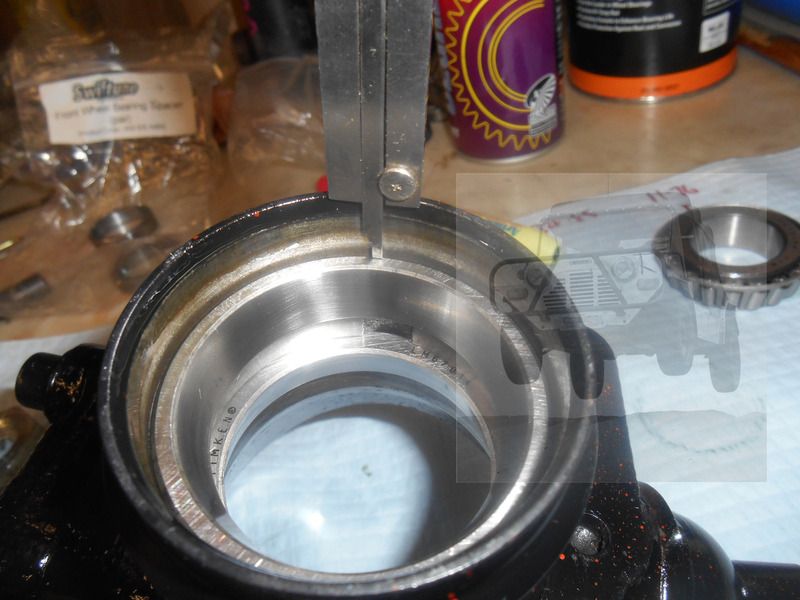 Then some maths.
D I - (D O + t O)
34.85 - (11.75 + 12.80) =  34.85 - 24.55 = 10.30 mm
This represents the thickness of the central register that's machined in to the Hub.
From the many hubs I've measured over the years, this varies from 10.20 to 10.40 mm. I would suggest that a figure less than 10.20 mm will show a worn hub that should not be used as there will not be sufficient preload on the bearings and could even be 'slack'.
Another item to check before assembly is the CV Collar, that's the Tapered Washer that sits under the Nut.
Check it's not worn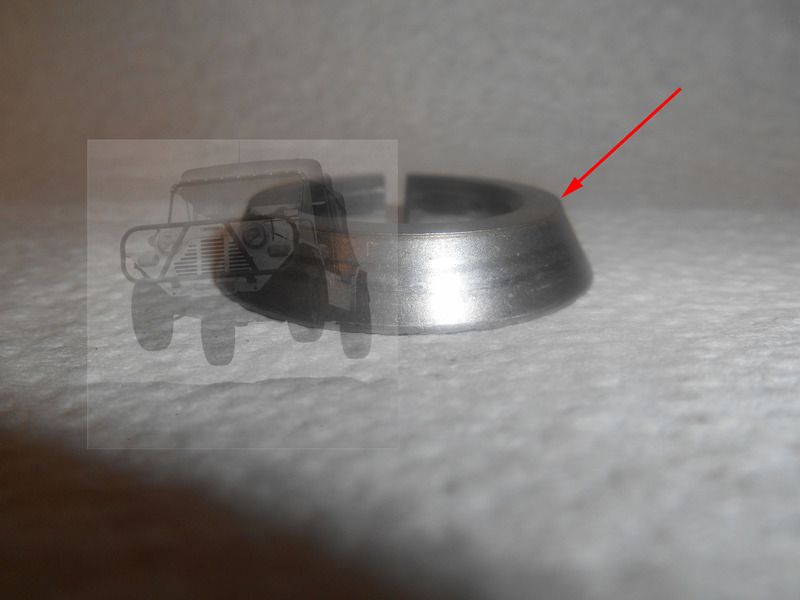 Very hard to see here (I'm no photographer!), but the Red Arrow is pointing to a bur on the small end. There was also a similar bur on the taper in the Drive Flange. These burs show that there's been some fretting and wear. They also won't allow the CV Collar to fully seat. I don't muck about with them, if this bur is present, I replace the Flange and the Collar, sure the Bur can likely be dress off, but as there's been fretting, they'll be out of shape.
Next, check the CV Collar will actually fit the CV. I've found lots of new ones too tight, so check them all.
This one here doesn't fit, it's too tight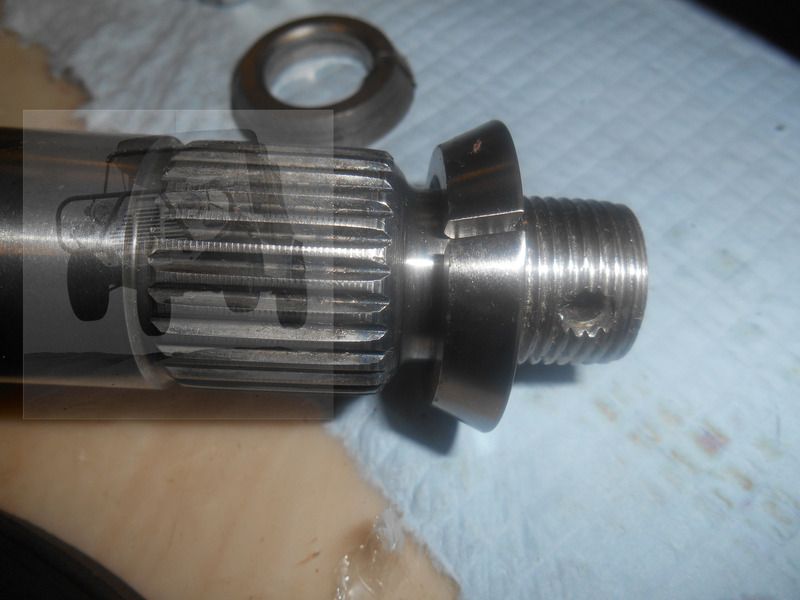 Spread a little and no problems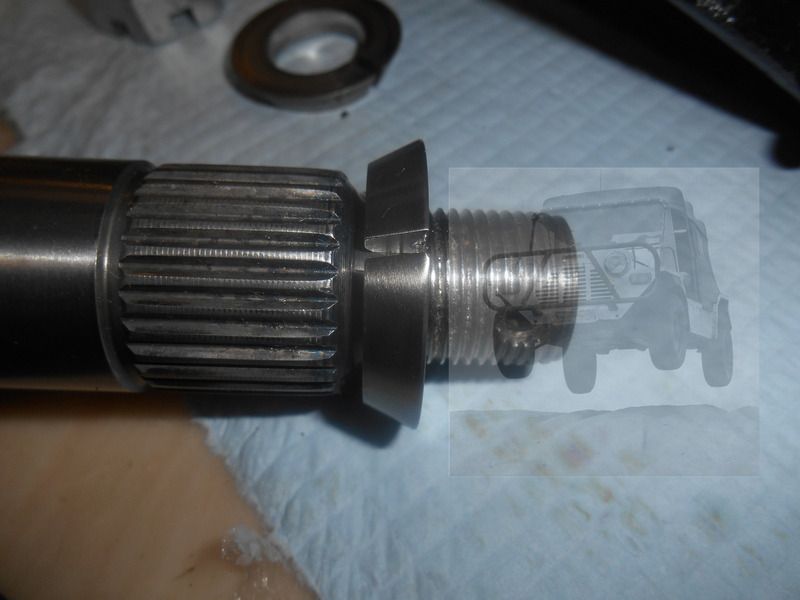 If the CV Collar doesn't seat properly on to the CV, you can tighten the nut until the Cows come Home, 1000 ft/lb if you like, and the bearing will feel loose. These just never going to be proper clamping of the Bearing Assembly.
One detailed point I did over look including was one of Greasing the Bearings. I would suggest a good quality High Temperature Wheel Bearing Grease, at the risk of sounding like a Timken advert, in recent years, I've been using Timken Wheel bearing Grease, though there are many other good ones out there.
If re-greasing Bearings, it's always best to use the same type and brand that was previously used. It's also not a good idea to mix Lithium based greases with Clay Based types.
The next point I make here is one that's often over looked, sometimes scoffed at and probably goes against one's natural thinking, that is, 'if some is good, more has to be better'. Definitely not so here.
Wheel Bearings should be 'packed' with no more than 1/2 full of Grease, do not full pack them.. Excess Grease causes the Bearings to over heat and can lead to them burning out.
Here's Timken's advice;-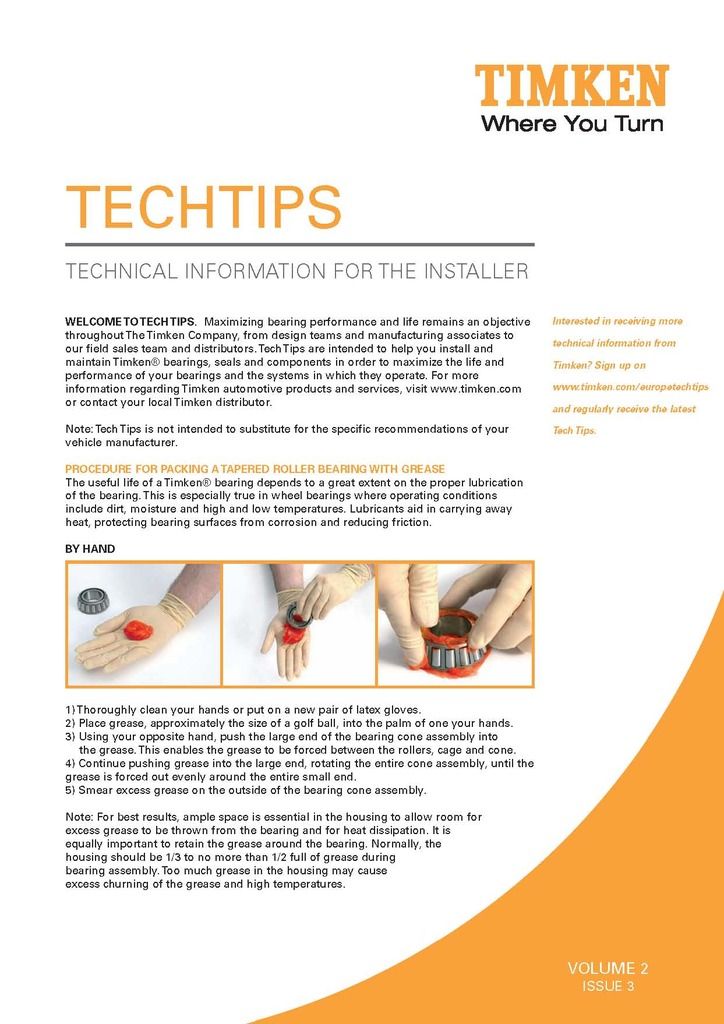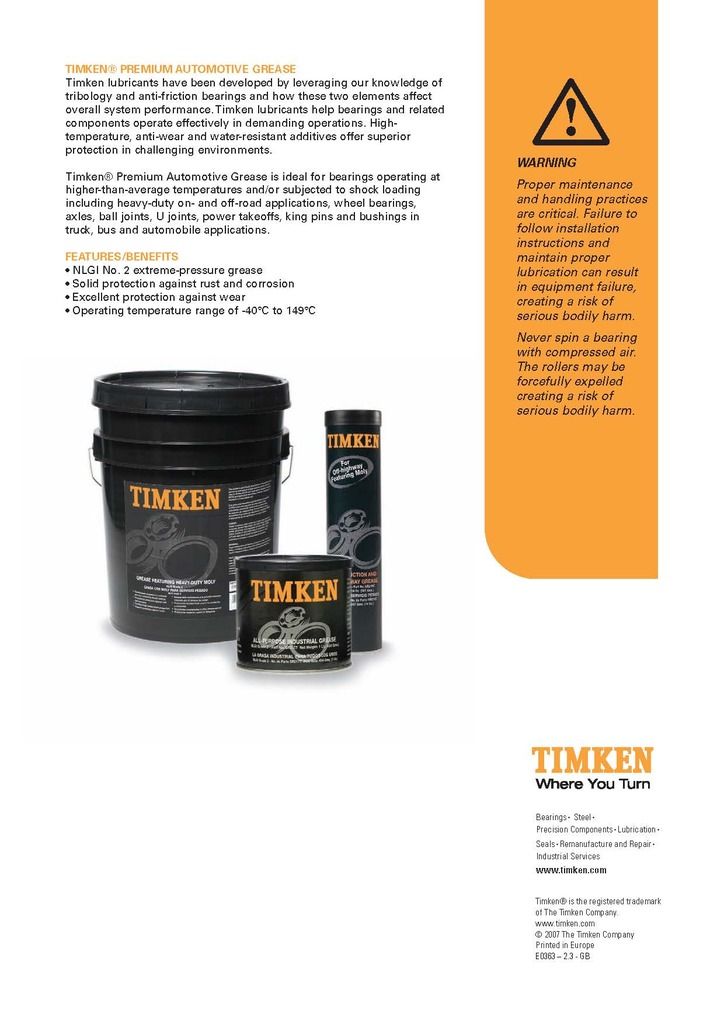 This not only applies to Wheel Bearings but most Bearings.  >
Edited by KernowCooper, 26 April 2017 - 08:47 PM.