Need to know what its worth, I am undecided but will probably be selling it pretty soon due to illness.
1275cc Engine with a Stage One kit... strangely this engine has more torque and power than the 91 Cooper engine...
The Mini was deseamed except roof seam in 2006. It was given a complete rebuild and respray in 2008.
MOT & TAX until July 2010.
(All work was carried out to an extremely high standard, it was built by my Dad and I, for an example of his other work you might have seen the Snowberry White Mk2 Mini which has won over 40 First Class prizes since 2003.)
Winner of "Most Innovative Mini" at Bristol Mini Day 2007 and 2008.
-Rear wiper
-Metro Door handles
-Speaker pods built into arches so you DONT lose leg room
-Internal fuel filler to keep "smooth" look
-Smooth bootlid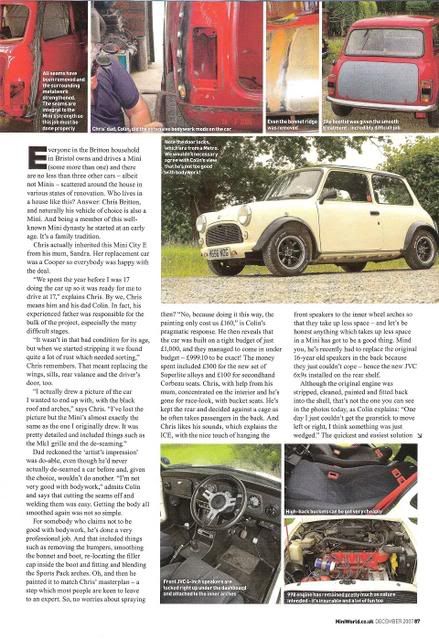 Edited by ChrisCityE, 14 December 2009 - 09:36 AM.