Sorry, this is a long post ; but I think it's a topic that sums up the feelings of many of us on the Forum, and I hope that the detailed nature of my observations will deflect any comments regarding scatter-gun complaining.
It's taken me a while to draw up, adding a paragraph here and there in a Word document over the last few months, but seeing the accumulation of pictures and notes I've made over the last 5 years has made me quite angry - and, hopefully, eloquent.
I'll try and get out a little more when I've finished.
Have I just been unlucky, or are many people in The Mini Business either Crassly Incompetent and / or Dishonest  ?
Does it come with the model ?
I'm beginning to suspect that the answer is Yes.
I've not given names to the suppliers of the stuff or the services I'm listing here, because - just occasionally - I got some redress, and because I know (from my time in the trade) that many retailers are selling parts that actually all come from the same manufacturer.
Many times I was unable to complain because, camping behind the 12-months guarantee, retailers tell you to take a flying jump if you order stuff at the beginning of a restoration and then consume it slowly over the next 2 or 3 years.
I had a good example of this when a LHD steering rack bought from a "family-run, enthusiast specialist etc cont. p92" business turned out to be actually a RHD one when I went to fit it 2 years down the line ............  I asked politely whether I could return it, never fitted, brand new in its brand-new box, at my expense, and was made to feel like I was a leper and asking for the moon ; remember, this was to return a RHD one that they must sell every week, and ask for the correct LHD one.
I maintain that the overall picture is one where one could justifiably begin to think that The Mini Business is rotten to the core, shows every sign of being devoid of any staff with any genuine engineering and/or materials-science training (and by this I mean intellectual rather than just learned-at-the-bench) and - to pinch a recent comment by another contributor - seen by many retailers as akin to shooting fish in a barrel.
Let's warm up with a minor but irritating one that speaks volumes for the market context ; my circa 2012 2-core radiator had the ears on the filler cap that lined up with the rad and looked right. Four years later I buy another one, same source, to find that the orientation has changed and the cap now sits at 90° - can any one tell me why ? One is wrong, it makes no difference in practice, but is there no specification for this sort of part ?! Do they just make it up as they go along ?
Next, this was a good one ; adjustable rear camber brackets.
- that perforation or window on the bend is to give clearance for the swing-arm. Whoever bent these, or made the jig on which they were bent, didn't grasp that - so the fold on the adjustable one is now on the edge of the window and gives no clearance, and the parts won't fit. Was there ever a drawing, or just "copy that mate" ? I got my money back, but it was another begrudging "no-one else has ever complained" job.
How about a Stage 1 water-heated inlet manifold with no flow from left-to-right - the pipes are present, but they don't communicate.
Rubbers ; there's a big thread about this elsewhere, here is my latest contribution.
Drop-stop rubbers that gave up after 2 years on the car, during the rebuild, so they were never actually driven - so they have been kept in the dry, the dark, the warm, and just compressed.
The rubber has dis-bonded (?) from the backing bracket, and just collapsed elsewhere.
Windscreen-wiper spindle rubbers ? Try these - the originals are much harder, these ones just collapse when the nut is tightened. A complete waste of money, but not enough money to warrant complaining - a prime example of me being a stupid dumb customer.
Dashboard warning-light bulb-holders - I've had these from several Mini suppliers, a Jaguar supplier, and a vehicle-electric supplier ; they're all the same, they look right, and as soon as you remove them from the instrument the claw-ring falls out.
Same department, voltage-regulator unit for the instruments ; the terminals are brass, the rivet on the board is aluminium - a wholly awful metallurgical combination that guarantees corrosion. Plus the aluminium used is too soft, it has no residual elastic grip on the terminal, and the latter worked loose immediately.
This top bump-cone had a thread that was so drunken that I was unable to identify either a diameter or a pitch - if it had been M8 I could have understood and coped, but it was so off to ******* that I just ran a 5/16 UNF die down it and crossed my fingers ; the nut is only there to stop it falling off after all. But what a nasty piece of manufacturing.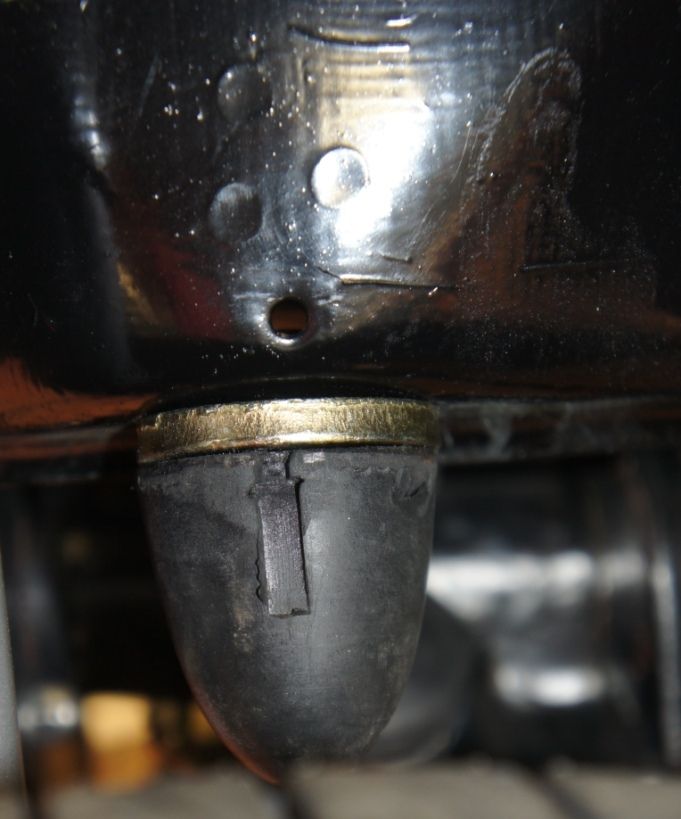 Hand-Brake cables ? There is meant to be a stepped seating or collar at the end of this spring, that locates into the slotted hole that allows the cable into place - all the parts look great, BUT that end seating never got specified correctly so it is MISSING the vital little nose that stops the cable coming out sideways ; to be honest, it works, on my car at least, but where was the drawing that laid down the correct machining ?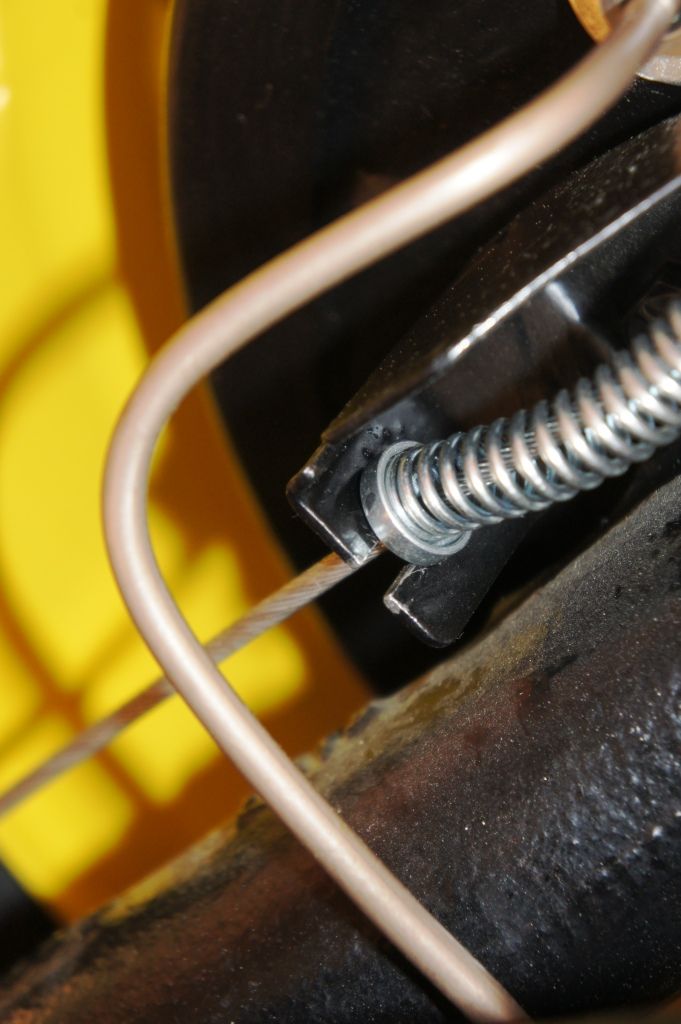 Rear brake hoses ? Must be hard to get these wrong, they're all the same. Genuine Goodridge, these are about 10mm too short and just aren't quite comfortable in their run. Does nobody at the suppliers ever USE the parts they sell ?!
Same again, only this time it's Front ones - bought as a pair, genuine Goodridge ; machined to completely different depths, see the penetration of the two identical ferrules screwed in - the deeper one only just managed to grip the end of the hose.
Referred to elsewhere, here we have (the MPI-modified remains of) a thermostat ordered from a Mini specialist - how can you not be a "specialist" when you're a one-make, one-model business ; shame that they were supplying versions WITHOUT the vital air-bleed toggle. This supplier brags about being closer to the customer because they have a workshop and restore cars .......... and "use the same parts".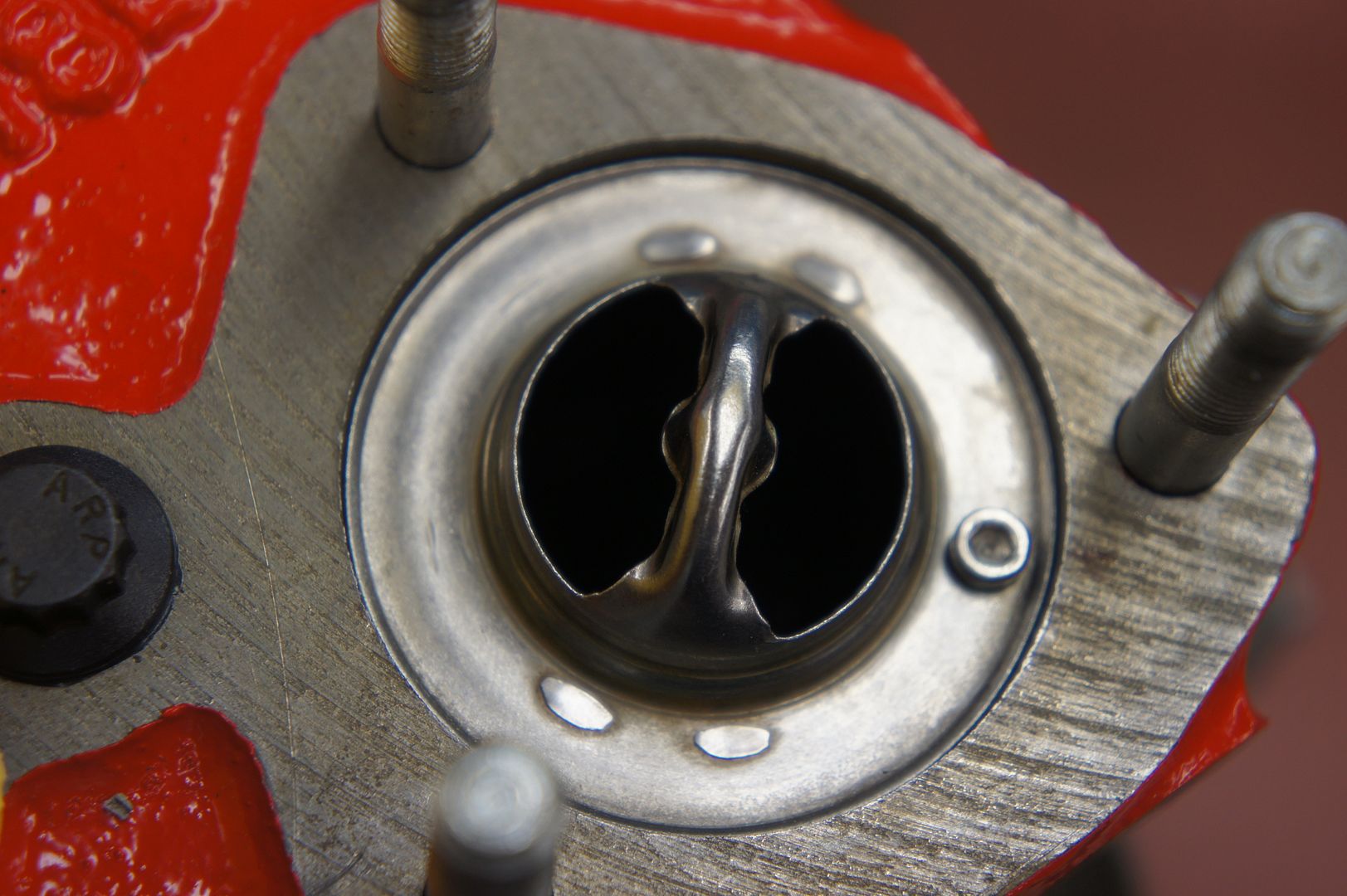 Oil-cooler thermostat, anyone ? Probably never make a difference, this, but why are customers treated as being so stupid and expendable as to not require screws that actually go through the nyloc-nuts that are meant to hold the thing together ?
Above is what the correct-length screws look like, Below is what you get supplied - probably never make any difference, but it's just sloppy.
Now from a major supplier of Racing Stuff, here we have a roller-rocker set that is supplied "in the right order" and - you might reasonably think - ready to fit ? Better watch out however, the oil-drillings in the spindle-posts were full of swarf, and the spindle was reversed so that the locking screw was aligned to post #3 (from the radiator) instead of post #2, so there would be no lubrication to rockers #3 through #8 ................... good job I spun it up cold to look for signs of feeding. (Plasticene was to check rocker-cover contact)
Not Mini-specific these, but Classic-Car typical ; dinky little reversing lights, actually nicely stamped and designed
.
Big hiccup over the clips that hold the lens in, however - my advice would be "never take them out" unless you have to.
The stainless of the cup is so thin, that with just the tiniest torque on the self-tappers the hole strips ; and the screws that are used are so short, with so little room before you hit the reflector, that I couldn't find anything else that would fit with more "bant". In 5 years these will be in the bin or held together with bailer-twine.
Here's a rather nice centre-sump pick-up pipe from a very helpful chap - shame that the holes and threads were so rusty that running the 1/4 UNF tap into each produced a little pile of swarf and corrosion.
More useless accessories sold by people who should know better - here we have stainless wheel nuts. I couldn't understand why they never torqued-up cleanly, and felt as if you were bending something rather than clamping something. Remember that it's the tip of the cone that does most of the work on these, with a diminishing load being spread across the rest of the seating. Closer inspection showed that the cone on the nuts was way too "flat", and that contact was occurring way out on the (flexible) shoulder of the recess/cone in the rim, rather than pinching metal-to-metal at the root. To be fair, the manufacturer immediately apologised, offered a refund, and has since copied a genuine original NOS version - so they now work. But how many hundreds of cars are driving around on nuts that aren't doing the job properly ?
The upper nut is a NOS original, the lower what was sold in quantity - and the rim shows the seating they were producing.
Here we have a great example of what suppliers really think ; the couple of thousand pounds you have just spent with one of the "World's Greatest Tuners" doesn't actually justify them using or investing in proper boxes, certainly not new-ones - in this case they used a second-hand cardboard-box from Quaife that was 50% too small and too thin to even begin to pack everything I'd bought properly.
One-make and One-model specialisation apparently doesn't warrant investing in the correct boxes to ship stuff, we're far too busy bragging abouit our racing successes and parading in front of the media.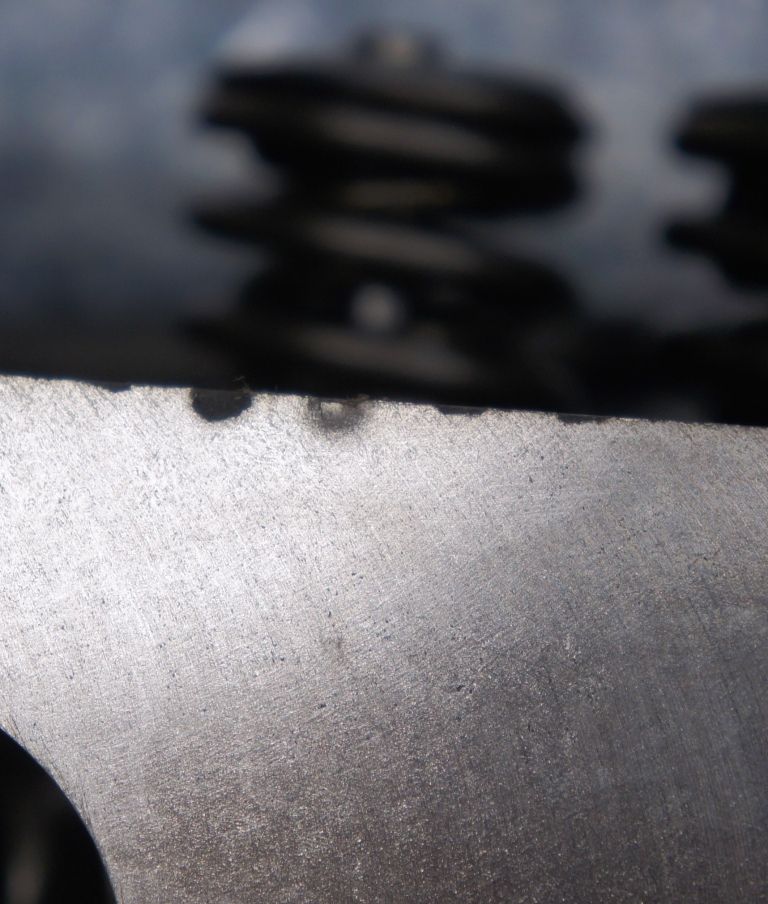 Result 1 : the steel-flywheel and clutch assembly had ripped through its inadequate bubble-pack and left a nice row of teeth marks on the race-prepared cylinder-head.
Here you have the puncture marks where the flywheel hit the head, that was wrapped in just one skin of 2-ply cardboard.
Result 2 : my balanced rods had been fitted to their new pistons, but - again - inadequate and incompetent packing resulted in two of the pistons being touched by flailing rods (should reduce piston-slap ?!), and a third damaged (cosmetically only) on the cheek rebate.
You think that dealing with someone (me) who had spent 20 years packing (often heavy) mechanical componentry into boxes, and shipping it around the world, would mean you'd be leant a compassionate ear when you (me) enquired politely as to what they intended to do about the consequences of their incompetent packing ? No chance ! They said it was shipped at my risk and there was nothing wrong with their packing !!
To crown it all they charged me for balancing a crank ............ which when I got it back had never been near a balancing machine, pictures to prove - before/after, and still required considerable balancing when it was run up on a soft-bearing balancer here locally.
All I can say is that they must be used to getting away with it.
This was one of my favourites ; a Maniflow Mini exhaust "especially for a van".
It took me a whole day to fit this, in a pretty well-equipped workshop ; the alignment of the main pipe was so far out that I had to re-tweak everything right from the LCB Y-pipe.
I never expect stuff like this to fit within 1/4", but this far out was a joke ...................
Not the most elegant way of changing bends but needs must ..........
Even the brackets were horrible, and the "U" bolts were too short to enable the nuts to be started, never mind fit spring washers and have something that looks the business.
Fitting instructions ? Advice ? Forget it, you're only a Mini Owner remember !
You'd think that a Lower Engine-Stabiliser kit would be easy to get right ? Don't count on it, this one was supplied with a set of 5/16" bolt/washer/nut and spacer tube instead of the 3/8" set that is required - fine if you've got a good workshop and some spares lying around, but for the poor sod in a lock-up with a Halfords tool-kit ?
How about the stainless front bumper ?
Should be easy enough to put captive 1/4 UNF SS studs in three places, no ? The trouble is that after tightening the centre one once or twice, the threads stripped.
I thought I'd order a fast-road prepared head from one of the UK's biggest Mini parts suppliers, which offers a range of valve-sizes and combustion-chamber volumes, all accompanied by sexy language and blurb on the web-site, including that "genuine Rover copper-beryllium lead-free exhaust seat inserts are fitted".
Since Cu-Be seats are yellow/orange, as seen above, I thought I'd pop an exhaust valve out to check ............ NOT ONE Cu-Be exhaust seat in sight.
So I send the head back, no apology or explanation, I get a credit note tho' it's still cost me £30 in return postage ; this range of heads does NOT have Cu-Be seats apparently .............. BUT THREE MONTHS LATER the web-site is unchanged, and the rest of you are STILL being sold a pup if you order one of these heads.
For the time being I'll end with this anecdote, which followed on from the above - as I now needed a head in a hurry, all of a sudden.
After shopping around for delays, I sent an Ebay-sourced donor head to a Well-Known-Tuner for a fast-road spec conversion - they could do me one quickly, yes. My donor head turned out to be duff because someone had already been at it, see the push-rod break-through :
but it took them 10 days to tell me this even though the total delay promised had been just 2 weeks. They said they would find another, then - three weeks later and out of the blue - announced that they hadn't got one and perhaps they should now supply me a brand-new MPI head instead ?
Running out of time, I bit the bullet for another £200.
Next, even though I'd sent a complete written/printed specification of what I wanted (cc. volume, stud number, return address) both by email and by post, I started getting questions about precisely these same details - apparently nobody had either read the email or the letter, or at least failed to connect them with the job.
I used to do this for a living in a different market and the system required to keep everyone up to speed, to centralise the info, and to streamline everything - well, it's not rocket-science, it's called A Job Sheet.
I had a detailed conversation with the chap - very pleasant and helpful - actually doing the work about whether I was using the inlet-manifold sleeves, to which I had explained that, no, I had a Stage 1 alloy manifold running an HiF44 and wanted the head ported to suit. No sleeves.
When the head eventually turned up .......... of course it had been ported with the sleeves left in, so required re-porting to clean out the step.
The supplier squealed that a "telephone conversation ............. is an unreliable method of communication" (sic) which is pretty rich from a firm that evidently didn't read what I wrote to them anyway !
Sure, sure, there are more important errors and it's ONLY for a road car and it's ONLY a Mini ......... but it's all part of "All Firms Are Crap, Including Our Own".
Have I just been unlucky, or are many people in The Mini Business either Crassly Incompetent and / or Dishonest  ?
Does it come with the model ?
I'm beginning to suspect that the answer is Yes.
Edited by Carlos W, 22 September 2016 - 11:26 AM.