I cannot tell you where this car is, but I am trying to buy it.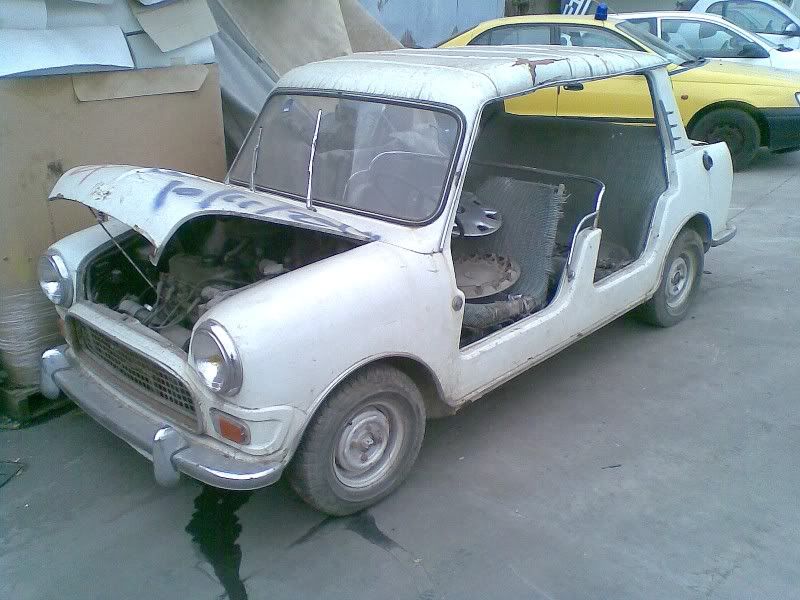 It seems to be a Jolly version of an Elf/Hornet.
From the back it looks like a Riley Elf/Wolseley Hornet Mini derivative. It is full of bespoke details I had never seen on Minis.
The grille is unique with its cut out squares and the front flashers are much larger than usual.
Around the back it looks like any Hornet/Elf but it is badged Austin 850 and has a chrome number plate frame.
The interior is incredible. Pale blue plastic wicker seat backs on custom frames (wooden at the front). Chrome handrail for front and rear passengers, mk1 instrumentation and steering wheel. It must be based on an early Mini as there is a floor mounted starter hole in the floor and the floor dip-switch.
The engine is there and looks very much like an early 850 unit complete with its small air filter housing.
The whole car looks to have been converted in a very professional way, probably by some Italian coach-builder like GHIA who made the Jolly Fiats.
Has anyone on the forum seen anything like this before, or know anything about it?
I would guess it was made as a private island or 5 star hotel runabout, or a 60's superyacht tender, just like the Fiat 500, 600 and Multipla Jolly cars, made by Ghia in Turin.