For anybody bored enough to be interested, here's the long winded, complete rundown on my New Zealand new 1973 Mk3 Clubman. This is the second Mini I've owned in the 9 1/2 years we've been out here :) Now, most of this is copied and pasted from my car club build thread and basically documents everything from November 2013 to present, so bear with me, also excuse my atrocious language, I'll do my best to edit the worst out! ANYHOO...
The story begins Last November, when my much loved R32 was lost to the hands of thieving scum in Christchurch, and for a week, the world ended, until it's miniature, blurple and very tidy replacement popped up on trademe (NZ's EBay), and, a few days later, insurance money in hand I stopped grieving for this: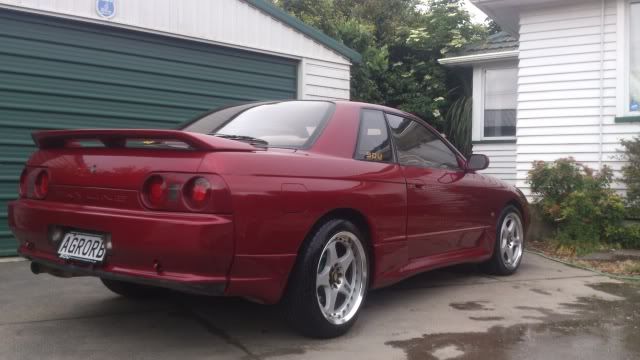 And picked up this: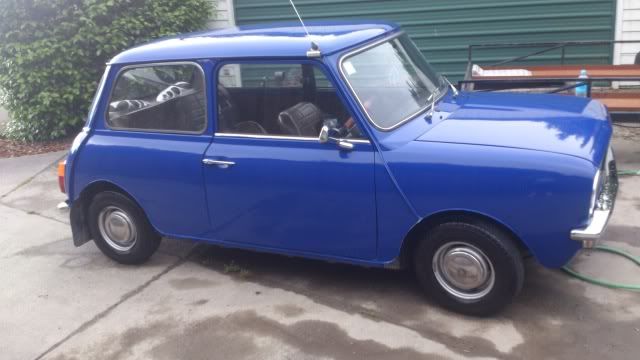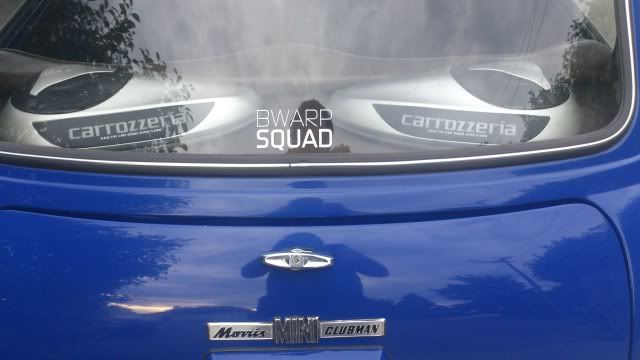 Just like that, I had taken ownership of my second Mini. Marvin, as I later named him, was running a bit rough when I first got him. 5 minutes of fettling with the SU' s awesomely simple mixture adjustment and further fine tuning thereafter saw a huge improvement. No more spluttering, farting and backfiring :) it wasn't long before I went on the hunt for performance, and, just like I did with Porkpie (my old yellow roundnose, original eh), an electronic ignition kit was ordered first. The kit comprised a new distributor and Lucas gold sport coil...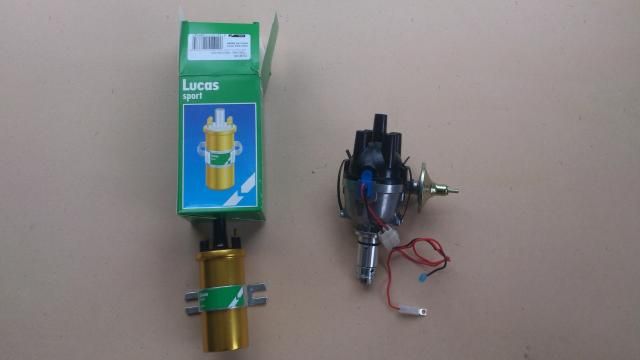 Improvements were instantly noticeable over the old points system, both in drivability and performance, money well spent then. Did an oil and filter change, ordered some genuine Lucas 8mm leads, and a Ramflo filter, which turned out to have the wrong backing plate. It's still in a box somewhere, anyway, new leads arrived and I decided to change the plugs and fuel filter at the same time...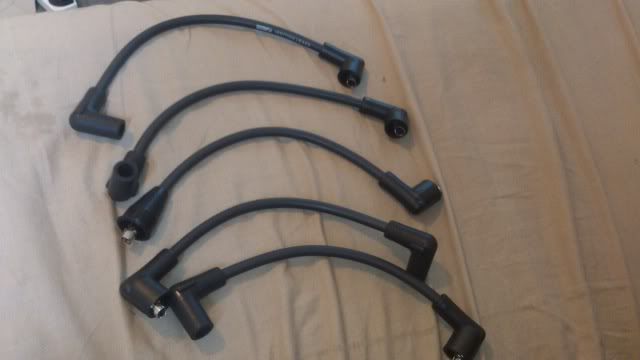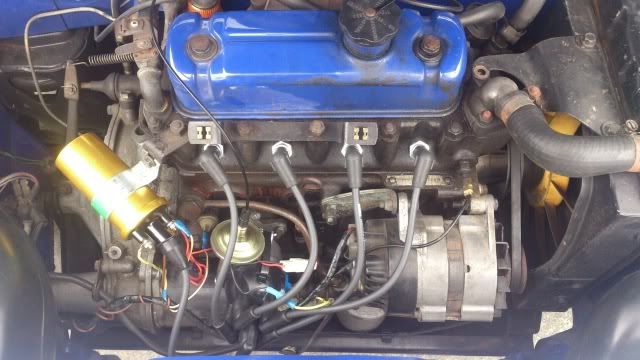 I noticed the temperature was creeping up a fair bit on hot days so I decided to drain all the horrible crusty tap water from the system and replaced it with 50/50 coolant. Much win. Little changed, I enjoyed pottering around the shaky city in my 4 wheel Skittle and decided all was well. Marvin even went on a romantic date with a mates very tidy and original E-AT Si Civic down by the Waimakariri river just out of Christchurch: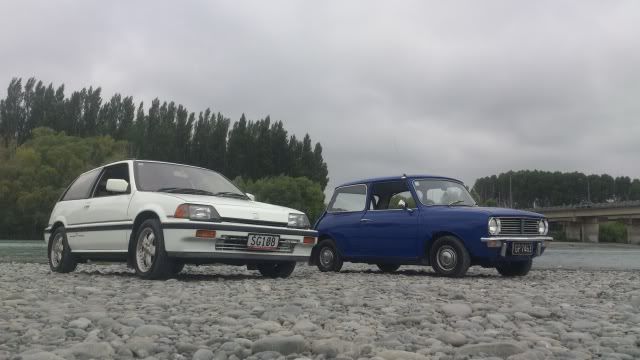 After a while the urge to empty my wallet bit again, so I put in an order to Minispares in the UK for some shinys and some general replacement parts:
New alloy rocker cover, rad cap (which was wrong, doh), 74 degree thermostat, new thermostat housing studs, urethane engine steady bushes, a Paddy Hopkirk extended accelerator pedal, brand new clutch and brake pedal pads and some alloy hardware for the rocker cover. Why a 74 degree thermostat? Temperatures were creeping up once again, more on that later. Anyway, I fitted my new bling and there was much rejoicing.
I had just bought a 90% complete 1275 motor at the time too, however this is where things took a turn for the worst for me and my Mini. I was forced to leave home in Christchurch, leave a well paying job, and head to Dunedin to stay with the olds until I got things sorted out. That's where I'm at now, however, on the way down the car started boiling its coolant. Remember the radiator cap? Wrong pressure, 7lbs, instead of 15, I didn't read the description properly. Couple this to a dirty, corrosion filled cooling system and things quickly turned to ****. Every 15 minutes we were stopping to top the radiator up as it boiled coolant straight out the overflow. Longest trip of my life, and the grind up The Kilmog was painful, but we got here. That poor little 998 soldiered on like the trooper it is, and is still running fine. I'll be getting a coolant flush, compression and leakdown test done to see if my suspicions are correct and it IS in fact the head gasket thats gone, or if all is well and it just needs a bloody good clean out. Unfortunately, I had to sell the 1275 before I shifted down here, so I'll either do some mild mods on the 998 and just enjoy it, or, source another big bore motor. All comes down to dollars... Either way, I'm not giving up on him like my last Mini, I'm determined to keep this one going til the bitter end and actually enjoy driving it again.
Big plans, but I'll say no more until I can bring them to fruition :)
November to January 2014 :)
Edited by AGRO_RB, 24 March 2014 - 04:43 AM.